Cathye's Adventures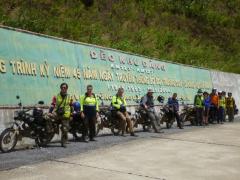 12th Jun 2012 - Vietnam and Cambodia




Phong Nga to Khe Sanh



Weaving our way through more majestic karst country, we followed Chris to our rendezvous point with Nam and Hai. They had headed off early to sort our permits to enter the Frontier Area between Viet Nam and Laos.

This road, a closed road needed a special permit for us to ride. It passes close to the Lao border in several places going as close as 300 meters at one point. We were considered a security risk so hence the special permits. The ride was along a fairly well made concrete road with almost no traffic apart from a few locals still living up there. The area is quite a wilderness as so few go there except mainly for military purposes. Approximately 150 kms of road to ourselves. One of the sights we have been seeing is more than 2 on a motorcycle. Fairly often we saw 3 and 4 is not that unusual. In that case it is mum, dad and 2 kids. We did see the occassional 5 of mum, dad and 3 kids. Not to be outdone we decided to see how many we could get on a Minsk. We managed 5 and managed 7 on the ural however this was motionless so probably doesn't count. We did get some amazing photos of various loads being transported by bike. Some of these defy gravity or the actual carrying capacity of the bike.

At Khe Sahn we visited another war museum. Khe Sahn was a major American forward base during the war and has several helicopters and other war machinery on display. Includes a hurcules air transporter which the RNZAF still flies.

Khe Sahn went under a famous siege in the prelude to the Tet offensive. [Go read your war history for the details].



Diary Photos
12th Jun 2012 Top of pass, Ho Chi Min trail
---
12th Jun 2012 The crew
Quyen (van driver), Hai (lead guide), Nam (trainee guide), Tap (mechanic)
---