CCS Vietnam 2017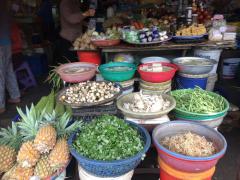 24th Sep 2017
Day 5
Day 5
Greetings from the Nam of Viet!
Well – today was a day. Out of ten? Great! A well-deserved sleep in was greeted by our new hotel's buffet which supplied the goods. Bacon, pancakes and enough croissants to feed a French Army!
After a good feed we headed off on a new adventure to the Hoi an Old Town with majestic wonders of ancient culture. Luat (our tour guide) took us on a guided walking tour through 400 year old Chinese Assembly Halls. He took us over grand Japanese Bridge that is said to have supernatural powers and stop natural disasters.
We mingled with a number of locals before making our way to the world renowned Yaly Tailors where a handful of students were fitted for custom made clothing. Meanwhile, the remaining students ventured the local markets, whilst other simply enjoyed the free Wi-Fi. The morning was over. It was time for lunch
A delicious meal awaited us at the Morning Glory Restaurant. We consumed a variety of traditional Vietnamese delicacies as we exchanged childhood stories and enjoyed new and familiar company. After the meal, we returned to the Hotel for some relaxing down time. Many of us went swimming in the 5 Star swimming pool, whilst others relaxed in the rooms.
We – on the other hand – engaged in a thrilling and friendship ruining match of Toy Story Uno (#hampowerplay). Eventually it was time for our cooking class at the Little Bridge restaurant. We made our coach journey to the destination before splitting into two groups to begin our lesson in cooking traditional Vietnamese meals. We created many delightful snacks and consumed them as our dinner. Seafood Salad, Quang Noodle Chicken, Steamed Ocean Fish on a bed. You name it – we consumed it!
After our immense enjoyment we turned back time and returned to the tailors for our fittings. Many authentic suits and dresses were sized up and perfected. The remaining students were given a second opportunity to shop and browse through the local products. Let's just say there was more fruit than salad by the end of the day.
We arrived back to the hotel and the night was still young. More swimming, games of pool and story exchanging left us with nothing to do than write this blog. Well that's our lives in the past 24hrs.
Let's hope more exciting Vietnamese experiences lie ahead.
The Kearnal and The Webster
Diary Photos
---