CCS Vietnam 2017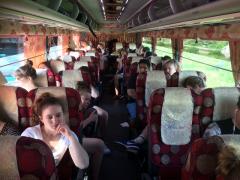 27th Sep 2017
Day 7
We started off our day by having a late start (late compared to all the other days). In the hotel foyer, the lady at the reception desk brought out some flowers for Lillie, who turned 16 today. We then proceeded to take the bus down to Perfume River where we got on a big dragon boat for a 45 minute boat cruise down the river to a Buddhist Temple. The boat cruise provided us with some nice views along the banks of the river and a lot of souvenirs that were available to purchase.
At the Buddhist Temple, we stopped outside the Thien Mu Pagoda tower for some information and facts about the tower, the massive bell, and the giant marble turtle. We then got a chance to go inside the main temple to have a look around. After that we had a walk around the gardens and the monks' living area, while walking around, we saw an old Austin car on display and we were told that the car was the same car in an image where a monk had driven the car into the city and set himself on fire as a protest for religious freedom in the south. This image has since then been one of the three most iconic images in history.
After the tour of the Buddhist Temple, the bus came and picked us up and took us to a place where we all got out and took a long walk through the streets to the Imperial City and the Royal Palace where we got to go inside and see the Emperor's throne and what remains of the Imperial City. While standing outside the royal palace, our tour guide Luat explained to us the history of the city and what was once there before. By this time there were some of us who were feeling a bit sick due to the heat however we kept going on. We concluded the tour of the Royal Palace and the Imperial City and headed back to the bus to go to the Royal Park Restaurant for lunch where we were all impressed by their food decorations and carvings. After lunch we went to the Tu Duc Tomb and took a walk through the gardens to have a look at one of the emperor's tombs and the river that runs through the gardens.
After the gardens we went to dinner and then proceeded to the airport for a late flight to Hanoi. We arrived in Hanoi pretty late and were all exhausted. We met our new tour guide Hai and went to check into the Skylark Hotel. Once checked in we all headed up to our rooms, packed our bags for the next night then went to bed.
Written by Sarah & Saurav
Diary Photos
---