CCS Vietnam 2017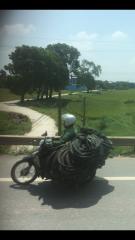 28th Sep 2017
Day 8
It was an early start, with another big day ahead of us. We boarded the bus at 8:00 am for a 3.5 to 4 hour bus trip to Halong Bay. Along the way we stopped off at a workshop where Vietnamese people who were affected by Agent Orange would learn to make a living from crafting different pieces of art, such as sculptures, jewellery, hand carvings and silk embroidery. It was moving to see people who have suffered so much create artwork that is so beautiful. We boarded the bus and continued on to Halong Bay.
Once we arrived to Halong Bay we boarded a boat for a four hour cruise with lunch included. It was a perfect day, the sun was shining and the view was spectacular. There are almost 2000 islands in Halong Bay, all made of limestone. Adding to the amazing scenery was the water – due to the calcium carbonate, it is a clear emerald green colour. It is filled with many different species including a sea snake that was seen in the water. Halong Bay is famous for the gorgeous cultured pearls that are found in the farms that surround the bay.
We stopped off at an island and had the opportunity to go kayaking. It was an amazing experience; the water was warm and clear, surrounded by cliffs, caves and islands. It was the perfect day for kayaking, even just being out on the water in general. After our time was up, we all boarded the boat again, heading to the Dau Go cave which means heavenly places.
The caves had sky high ceilings with coloured lights positioned throughout it, with many different formations looking like animals or other figures that have meaning to the cave and the locals themselves. It was cool and breezy, with the feeling of being swallowed up as you walked through the cave with water droplets occasionally dripping on your shoulder. As we walked through the cave, our tour guide told us about the different rock formations and the local legends including the entrance to heaven and to hell. After our tour of the Dau Go Cave, we boarded the boat one last time and headed back to land.
Once everyone was settled and on the bus we made our way to our accommodation for the night, the New Star Hotel. We had around 1 hour to freshen up and relax ready to leave for dinner at 6:30pm. We had dinner at the Phuong Loan A Tran restaurant with a five course meal. After dinner we made our way to the night markets, where arguing is the name of the game. But after our experiences at the night markets in Ho Chi Minh City, we've all gotten pretty good at haggling. A few of us got ripped off, a few of us got great deals, but when we got back to hotel everyone was content and ready for a good night's sleep.
Filled with panoramic views, sightseeing at world-heritage listed sites, and perfect weather, Day 8 was another eye-opening day in this beautiful country.
Chelsea Ridgeway and Ruby Heasley
Diary Photos
---