CCS Vietnam 2017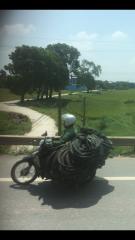 28th Sep 2017
Day 9
Day 9 began early again, packed dressed and ready to depart the hotel by 7.45am and visit the Ngoc Trai Nuoi Pearl Centre, just out of Halong City. Here we witnessed how local workers with the skill of surgeons took oyster membrane grafts, implanted immature pearl and harvested mature pearl from the various oyster farms the company has set up around Halong Bay. Then there was a demonstration of how these cultured pearls are prepared for sale. Finally, the main event and intrepid young shoppers once again hit the elegant and expansive sales room with enthusiasm.
After 45min searching for a good deal, it was back on the coach for the long journey back to Hanoi. We took a second opportunity to stop at the Hong Ngoc Craft Centre which we visited yesterday, but this time for only 20 min to break the journey.
On arrival back in Hanoi we headed straight to the Koto Van Mieu Training Restaurant which was set up in 1999 to help get Homeless Vietnamese kids off the streets and out of trouble. The foundation set up to support street kids has now gone global and there are restaurants in Melbourne and Sydney. With such a good cause, everyone gave to accumulate a generous tip of 2,000,000 VND which is about $100 AUS.
We then checked back into the Skylark Hotel, dropped off the overnight luggage and set off for the Museum of Ethnology which shows the multi-ethnic nature and cultural diversity of Vietnam. Who would have thought?
On arrival at the Museum of Ethnology, we went to look at some traditional Vietnamese houses, followed by a water puppet show, where the local puppeteers told stories of life in Vietnam. After the show, we then were given the opportunity to go backstage and learn from a professional how the puppets worked. Once we had the demonstration of how the puppets work, we then were taken to other Vietnamese houses where we were able to go up and see how the houses were designed to keep the house cool inside.
Upon back at the hotel we refreshed for an hour before heading to dinner at a huge 'all you can eat buffet' known as The Lotus. It can seat up to 5000 patrons and there was a wide variety of international cuisines of food, from spring rolls to duck heads to snails and to crocodile.
After a long day of adventures it came to end, we packed our bags ready for an early start tomorrow morning ready for the long journey home.
Diary Photos
---