Busy Doing Nothing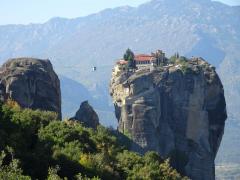 1st Oct 2017 - 25th Oct 2017
Greek Odyssey
Chapter 10 starts with a tour of Greece, a country that Cheryl has never visited before.
Before we left Bristol we had several excellent evenings with Neil's children and then with June and Roy to drop the car off before we headed to London. We stayed at Alex & Freddy's house for a few nights but only managed to spend one night with them as they had a weekend wedding to go to. A very long lunch with Neil's brother Bill and his wife Sue started with drinks in the Lamb & Flag in Covent Garden. It was another pub favoured by Charles Dickens but it's history is much more colourful that that. In the early nineteenth century the pub staged bare-knuckle prize fights, earning it the nickname 'The Bucket of Blood'! Our excellent lunch was in a nearby French Restaurant which ended a mere 5hrs after we started in The Bucket!
Next stop Athens for a couple of days doing real touristy stuff – The Acropolis (UNESCO), The Plaka, the changing of the guard at the Parliament building and all things Athens. We expected to see some signs of the impact of the severe austerity measures but there weren't many, apart from the extent of the graffiti……it was everywhere, even on some heritage buildings and it was quite hideous. Apart from the throngs of tourists, local people were well dressed, restaurants, bars and shops were packed and the streets litter free. We've both found it interesting that in our travels over the last few years to Portugal, Spain and now Greece, where each country has unemployment levels over 20%, we haven't seen anything like the misery and depression in the recession that we remember in Britain back in the late 70's. We can picture now the whole streets of shops that were closed and boarded up, factories derelict, unemployed teenagers hanging around on street corners, people protesting and then the unemployment rate was a mere 12%!
We hired a car and moved on to the UNESCO site of Delphi to visit the ancient city. Next we travelled north to yet another UNESCO site, Meteora, where monks built monasteries on remote stone peaks for safety from the oppressive Turks. It's an absolutely stunning location with the beautiful monasteries almost defying gravity as they perch on the tops of rock pillars. We climbed up and went in to the monastery which was used as a location in the Bond film 'For Your Eyes Only'….just look at the pictures.
Heading south we crossed an impressive new suspension bridge funded by the EU to the Peloponnese and headed for Kalavryta. We stayed by the coast so that we could travel the 750m up the gorge on the narrow-gauge railway to the town. In December 1942 the town was to suffer the most harrowing massacre by the Nazi's who wanted to punish local partisans who killed some German prisoners and were stirring up pockets of resistance. The entire male population of the town aged 14 and upwards were taken to a hillside and mowed down by machine gun……almost 700 men and boys perished, the town was burnt to the ground and the women and children were locked inside the school which was also set on fire. When they broke out they faced the grim task of burying their dead in freezing temperatures and struggled to feed and home the remaining children. The museum is housed in the rebuilt school and the exhibits extremely moving with video recounts from some of the survivors who were children at the time. It left us both very stunned as we left.
We found an excellent studio apartment in the coast town of Diakopto for our two-night stay. After trawling around the small town we eventually found the only taverna. On arrival instead of getting a menu we were taken into the kitchen. Pot after pot was opened for us to peer into and decide what we fancied to eat. Neil had rabbit stifado and Cheryl had lamb with artichokes. While we waited for the food to be heated we were given bread and a feta & red pepper dip to nibble on. After the meal we were given Greek yogurt with honey as a free desert. This was typical Greek taverna hospitality so needless to say we went back again the next night!
Moving on quickly we travelled to another UNESCO site, Mystras, which has the ruins of a Byzantine City built on the top of a large hill. It was an exhausting climb but well worth the effort to a stunning location. We really were on a roll now and moved next day to Monemvasia another Byzantine town built on a huge rock island with a short causeway across from the mainland. The town has always been occupied so the lower town has remained almost intact and full of cafes, shops and boutique guest houses. The upper town and Citadel (another good climb uphill) are slowly being restored. It really was pretty and atmospheric with lots of narrow streets and alleys too narrow for cars and motor bikes……bliss! We stayed on the mainland and had a great room overlooking the island and we once again discovered typical Greek taverna hospitality. It was such a pretty place and so quiet that we stayed 3 nights and just enjoyed the rest from what had been a pretty busy schedule.
Having had a couple of days R&R we set off for a one night stay in Nafplio to visit another quaint and prosperous little town on the coast which also had lots of little alleys containing numerous good restaurants. It's less than 2hrs from Athens so the quality was excellent if just a little more expensive than we had been used to. It also has a fort from the 18th Century perched high up on the hill. We checked into our ancient bijou guesthouse, had lunch and then stormed, well not quite stormed, the 999 steps to the gate of the fort. Rather than take the same 999 knee shattering steps back down we took the long meandering road which was surprisingly quite pleasant.
Next day we set off for the Corinth Canal which is quite a feat of engineering although it took a long time to complete. It was started by the Roman Emperor Nero and finally completed by the French in the 19th Century. It's 6km long, 23m wide and the rock is cut down to make the gorge 90m deep. It really is an impressive engineering feat which went way over time and budget and is hardly used today but it does bring us onto our next paragraph.
It's not often we talk domestic politics here in the blog but sometimes we do get animated about some issues and one that has got to us is Brexit. To be honest, after lots of mind changing we eventually decided to vote to stay in. However, after all the chest beating from non-elected European Federalist Bureaucrats we've completely changed our minds and now want to leave on the first train possible. What's made our decision even more definite is the total waste of EU money that we see even on our own doorstep in Bristol. Bristol City, in its infinite wisdom, has decided to avail itself of EU money to build a bus route into Bristol called 'High Speed Metro Bus'. The project started around 3 years ago around where we live, it's caused years of traffic misery, run hopelessly over time and budget and we can't actually see what it will do to improve the existing buses into Bristol. We have slightly wider roads, a new bus lane only on parts of the route, lots of very fancy bus stops but no sign of any Metro buses yet. 2 years ago we went to Portugal where the road infrastructure was incredible……same in Spain last year and now the same in Greece where motorways are still being built cutting through huge hills with a zillion tunnels. We think improving infrastructure is a great idea but when the new roads are empty we just see a massive waste of EU money. We also think this is the tip of the iceberg so goodbye EU!
Rant over. We spent our last 2 nights in the coastal resort of Nea Makri which is not too far from the airport. We needed some down time to write this blog, sort and label our photographs and attack some other jobs that we had neglected. We have had a great time in Greece. The weather has been perfect for sightseeing, around 25C every day, hardly any cloud, the food simple but excellent and the Greek people extremely hospitable. Regular readers will know that Neil doesn't do culture but even he has been amazed by the extent of ancient and modern Greek history. We've probably never seen so many UNESCO sites in less than 3 weeks and we feel we've only scratched the surface of what Greece has to offer.
Our hire car was a Toyota Yaris Hybrid, we nicknamed it YETI after the number plate, and we averaged over 55MPG – and that's with a lot of high speed motorway driving and lots of steep up hills……quite incredible. Rooms have been great value averaging around £35 night. We have stayed mainly in small guesthouses which have been very clean with good sheets & towels, beds have been on the firm side and many have had stunning views. We've eaten well in Tavernas and probably had too much wine. Average costs for lunch £20, dinner £25 including drinks. We've also discovered that portions are large and you can get Greek salad everywhere.
To cap what was a perfect trip we got an upgrade to Business Class on the flight into London and were able to enjoy a couple of Tanqueray & Tonic before a good meal. Were now back in London for a couple of days before flying off to Goa for our 3 months on the beach……..yeehaa!
Diary Photos
Diary Movies
---