Busy Doing Nothing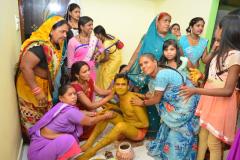 26th Oct 2017 - 15th Dec 2017
It's Cooler Now, Only 30C!
Well, it's been quite some time since we last posted and that's mainly to do with the fact that we haven't been up to much. Yes, we know, 'so what's new?'
We've been on a couple of boat trips one of which was to celebrate Cheryl's birthday. Instead of the usual daytime dolphin watching trip we decided to take the sunset cruise which was fantastic. The food you get on the day cruise is excellent but on the night cruise it's even better with a huge slab of delicious Sea Bass replacing Kingfish and strawberries and ice cream instead of fruit salad. Cheryl decided on a low key affair so we were a party of just 7 but we had a great night. In typically Indian fashion, the boat owner lost track of time so we didn't actually make it out to sea for the sunset and had to settle for it dipping behind the boat yard and palm trees instead which actually turned out to be quite atmospheric.
We've also made some new friends including Yvonne and John from Bude in Cornwall and Alison and Paul from near Cardiff. John talked a couple of times about organizing a boat trip and asked if we were interested…….'is the Pope a Catholic' we said? Anyway, the morning after Cheryl's birthday boat trip there was a knock at the door. It was another new friend, Jerry and his wife Liz, to say 'do you want to share a taxi tomorrow', 'what for'? I said, 'John's boat trip' he replied. It was our fault as we didn't tell John to give us a bit of leeway after Cheryl's night out so we were forced to endure yet another day of eating and drinking. Life's hard sometimes but you just can't let people down.
We had a trip out to a new restaurant which was being opened by Rahul and Karem from our favourite curry house C5. C5 is very, very popular in Benaulim and a great earner for them but as most people spend their days on the beach they don't get much trade at lunchtime. They decided to open a second restaurant in a commercial/industrial area near the airport in the hope that they would get a more balanced trade throughout the day. We were invited to the formal opening and we were treated as guests which meant we don't pay. The food was delicious, which was expected, but on the basis that our party of 6 did consume considerable amounts of alcohol we thought it only fair to pay to for our drinks. It's not in a particularly salubrious area but, hey, these guys just want to make money and who can blame them. Rahul left home aged 14 with nowhere to stay and slept rough for a long time. He found work but always had it in his head that he wanted to be his own boss and to be in control of his own life. We first met him working in a beach shack in 2006 but now he's very much his own boss. They are both lovely guys and at least in the future we can say we knew Rahul and Karem when they were young and ambitious as they drive past us in their Ferraris!
You will also see some pictures of Rahul's wedding in this entry. We knew he was getting married last April and we sent him a good luck message for his big day as we couldn't make it. This was a traditional Hindu wedding so it went on for a big week! They both looked stunning especially the bride in such a beautiful dress and the groom on his traditional white horse. We haven't posted all the pictures he sent us but suffice it to say it must have been a terrific event. Now, of course, she's pregnant ……. congratulations Rahul!
We also experienced the after effects of Cyclone Ockhi which hit Kerala very hard and, sadly, there are still many fishermen missing. The cyclone passed Goa out in the Gulf of Arabia but it still caused major disruption. The rough seas, rain and high winds combined with a full moon to make the tides the highest we have ever seen. A few shacks were flooded, some very badly damaged but the one we use, Pescador, escaped unharmed as it's set on slightly higher land. Thankfully, all is now back to normal.
We wish you all a Cracking Christmas and a 'No Fake News' New Year! We'll be back in 2018.
Diary Photos
---