Busy Doing Nothing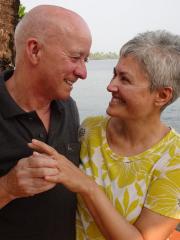 3rd Jan 2018 - 29th Jan 2018
1 wedding, 1 baby and endless celebrations
A huge surprise came just a few days after we announced we were getting married in the form of a call from the UK to say that we will become grandparents in July. That gave us a focus to get on with our own wedding plans and first task was to find a date when all three children and their respective partners would be available – you don't know just how hard that was! Anyway, our big day is June 2nd in Bath at 4pm.
Having set the date, we took some advice from John and Suz about shopping for rings. They have used the same jeweller a short bus ride down the coast for a number of years and always found his service and value excellent especially when getting the jewellery valued when back in the UK. So, off we went for the day, spent ages choosing the design for Cheryl's engagement ring and our wedding bands. Committed to a large spend a week later we headed to a lovely riverside restaurant with J&S to celebrate. We then went back a week later to get the rings and go to the same restaurant to celebrate again. When J&S read our initial blog posting of our engagement they were just about to pass through Gatwick and so very kindly bought a bottle of Champagne to celebrate – a few days after picking up the rings we headed off to Luna for bubbly, pizza and red wine…….phew, it's one long celebration!
This month we've spent very little time on the beach due to our excessive shopping, celebrating and organising. Trying to get the date for the wedding was tricky enough, then with Miranda's help and a phone call to the UK we managed to book the registry office in Bath and make the appointment with our local authority for our interviews to make sure that we weren't, amongst other things, a marriage of convenience! In addition, we've also planned and booked most of our honeymoon. We had considered various places in the US, Egypt, The Land of the Midnight Sun but finally decided that we wanted something much more romantic. Verona, the home of Romeo and Juliet, is to be our start point but we plan to hire a car and travel to Tuscany to visit Florence, Pisa, Sienna and many other historic cities.
Then we had more celebrations, this time a visit to The Hyatt Hotel just a short ride up the coast. It's a very expensive hotel to stay in but they have a Sunday Brunch which is open to anyone providing they're prepared to pay just under £30 each. We went with Brenda and Tony, celebrating Brenda's birthday, and Colin and Jan, celebrating Colin's birthday. None of them had said anything to us about our announcement so we suspected that they hadn't read the blog so as we toasted the two birthdays Cheryl held out hand to show off her ring. 'More champagne please Pradeep, we have an engagement to celebrate!'
That's how the day went, lots of excellent food and lots of champagne, fine Australian wines and even more fine Aussie wines. It did get out of control – just take a look at the pictures. Brenda managed to hold Cheryl up for the walk back to the ride home and Cheryl managed to hold Brenda up. However, Neil managed 'not' to negotiate his way into the tuk tuk for the journey home but somehow managed to fall and cut his arm and the top of his head. There was blood everywhere but the guys at the security gate were out in a flash and had him cleaned, coated in iodine and bandaged in no time.
We had decided to have our 'goodbye Goa' party on the sunset cruise on Cris Boats. With the help of Hugh we put together a great playlist of 60's party music and asked people to try and dress 60's style. Sadly, Hugh was sick and couldn't make it…..he was sorely missed. It was a huge success with most people putting on the style and enjoying the great music, food and of course a drink or two. This time we didn't overdo it and had no mishaps on the way home…..well not as far as we were aware. The pictures of the fancy dress say it all.
That's pretty much it for Goa this time, we have a couple of days before we head off with John and Suz for a week long whistle stop tour of some of the highlights of Rajasthan. However, just to remind you, we have booked for next year so we're open for bookings!
Diary Photos
Diary Movies
---