Busy Doing Nothing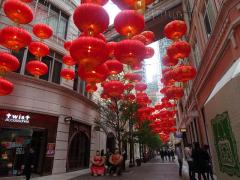 17th Apr 2018 - 26th Apr 2018
What a welcome home
'How do you manage to plan over half a year ahead to arrive back in England during the hottest "April" week in 70 years?' This was the message on the blog that we had from Roger & Ann. Well guys, Lucky is Neil's middle name. While we're on 'lucky' we haven't told you that we've already booked flights for Goa next year, with Swiss Air, an amazing price hundreds of pounds cheaper than BA. We arrive in Goa on October 23rd and leave February 1st 2019 and don't forget we have a spare room or two! We've also booked flights for the second part of our winter trip next year……Mexico for the first time!
Back to chapter 10 - the first leg home from Melbourne to Hong Kong was with Cathay Pacific so it was always likely to be a good one. An excellent G&T and Bloody Mary to kick off and very good food and wine. Neil majored on the Parma ham and red wine before we both had an excellent sleep. We landed at 10pm, grabbed a taxi and headed for the unknown. For those of you that have been to HK you will know that property is very expensive and that hotel rooms are tiny at best. We had booked a room with a view of HK harbour for only £70 which in HK is a bargain price. Well, what a find, a fab view, albeit in a bijou room and location just perfect so, we repeat, what a find!
We rode the trams and the ferries to explore and observe daily life, took the amazing escalator up the hillside that took 15 minutes to reach the top, walked back down via the botanical gardens that included a small zoo and just generally hung out for a couple of days. HK is full on and yet it's relaxing……quite a strange feeling when you're in a 24/7 city, we slept very well.
Having had a great experience on Cathay we weren't expecting much on the final leg home to London. BA haven't been great recently, so we just use them to accrue and spend air miles. However, we were pleasantly surprised. We had access to the excellent Qantas Business Lounge, the flight comfort very good and the food first class. Only one downside for Neil was the very poor choice in music which he prefers to watching TV….hey, you can't have everything!
We landed at 4.40am, flew through the airport in record time and got the first tube of the day at 5.21am. We got Alex and Freddy out of bed at around 6.45am and then spent Saturday with them enjoying the fabulous weather which saw temperatures in the mid 20's. They have a new house in Islington set over 3 floors with a superb south facing back garden which, by Islington standards, is very big. On Sunday we had lunch with Bill & Sue before going to the quaint cinema in Islington to watch 'The Guernsey Literary and Potato Peel Pie Society'……what a title and a very good film.
Next stop was Gloucester to stay with June & Roy and pick up the car which they have been baby sitting for us while we've been away. As usual, delicious food and homegrown vegetables. June & Tracy also took Cheryl out to Worcester for a 'girls day out' in advance of our wedding.
Well Roger and Ann, we might have had a couple of days of sunshine and warm weather when we arrived home but England didn't take long to bring us back down to earth……rain, wind and a daytime high of just 8C!!
Next stop Bristol to collect our new caravan.
Diary Photos
---