Busy Doing Nothing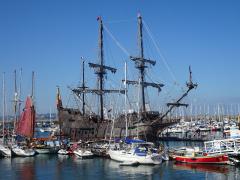 27th Apr 2018 - 29th May 2018
Home Sweet Home
We arrived in Bristol and went to collect our new summer home, a brand-new Bailey caravan. We were very excited and looking forward to moving into it and checking everything was OK. It looked great and it was all going well until it came to pay the balance and Neil's bank, Santander, took the icing off the cake.
Cheryl made her half payment using her debit card but Neil's refused to work. He called the bank and they confirmed that his card had been frozen. They couldn't tell him why! We then had the idea of doing a bank transfer but that involved Cheryl taking Neil's phone outside, standing on her left foot with the phone in her right hand with it tucked under her left arm in order to get a signal to collect the OTP that the bank would send to allow him to set up a new payee. An exaggeration? Slightly, but in essence this is what happened.
Frustratingly the bank didn't stop interfering with our exciting day at this point. Whilst the accountant in the office sat patiently looking at the computer screen waiting for the money to arrive Neil checked his account and it had definitely left. Neil went outside to phone the bank only to be told that because of the recent 'suspicious' account activity the bank insisted on further security before sending the payment through. By now we were both thoroughly embarrassed and Neil absolutely fuming…….the payment finally went through more than 2 hours later…….all this hassle for less than £5000!!
The bank has since coughed up some compensation and moved him to a select account giving him direct access to an account manager. It's some compensation but the caravan is even better compensation………we love it and have been travelling around Somerset, Devon and Cornwall for several weeks.
Whilst we've been travelling around we've also been keeping an eye on Neil's daughter's travels. Leanne's latest expedition with partner Neil and 2 other friends was to Svalbard. Check it out on google maps but suffice it to say it's a hell of a long way north of Finland. Neil had this great idea of crossing Svalbard on skis, totally unsupported and dragging their food and kit behind them, in a place where the inhabitants are outnumbered by the polar bears and the temperature would drop below -20C! Leanne was chosen to be trained as the sharp shooter and to carry the rifle in the event that a bear took a fancy to humans for dinner. Thankfully she returned home unscathed albeit disappointed she didn't see a single bear. She asked for sponsorship and thanks to everyone who gave her money, plus her employer who will match what she raises, she'll raise £1000 for Mental Health UK…..what a star she is.
Of course, we wouldn't be back in the UK without mentioning the weather……..rain glorious rain and miserable low temperatures! However, the bad weather didn't stay for too long and we were able to enjoy some beautiful sunny days whilst walking the coastal path in North Cornwall. We've also been visiting various places to buy a house and have managed to cross lots of places off the list and confirm one or two as definite possibilities. During our travels we met up with Dave and Kim in Torquay, missed out on Sue and Andy who had visitors, and met with John and Yvonne who live in Bude. All are friends from Goa.
That's it for now, we're back in Bristol and finalizing a few things before the big day!!
Diary Photos
---