Busy Doing Nothing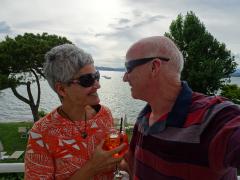 3rd Jun 2018 - 14th Jun 2018
Honeymoon with a Fiat 500
We made it to Gatwick Airport to catch the late afternoon flight to Verona, the city of love and Romeo and Juliet. The flight went well with plenty of bubbly and malt whisky and arrived just about on time. We had notified the hotel that we were on honeymoon and that we would arrive quite late and asked if they could provide us with a bottle and a cold meat platter. That's exactly what we got except they had us down for a 10th wedding anniversary!
Verona is a very pretty city and amazingly quiet. It's the setting for Shakespeare's Romeo and Juliet, and the local tourist industry has come up with 'Juliet's House' complete with a balcony which fits the story so who cares if it's not real. There's even Romeo's house for good measure as well as many other picturesque historic buildings.
After 2 nights we picked up the hire car, a Fiat 500 no less, and headed off to Florence for a further 2 nights of sightseeing, eating and drinking. Florence, whilst also very pretty, was mobbed with tourists and a traffic nightmare. We spent our first afternoon across the river at a viewpoint high up on the hill which gave a splendid view of the city. The cathedral, The Duomo, is pretty stunning and dominates the skyline of the town. There is also an extremely pretty bridge, The Ponte Vecchio, which is crammed with jewellery shops along its length. These replaced the original street of butcher's shops in the 16th century. They had the habit of throwing waste directly into the river below. We approved of the change of use, especially as it was very warm and sunny!
Next stop was Siena which was much quieter and pleasant. Once again the sightseeing was superb and The Duomo even more stunning than the one in Florence. There's also The Piazza del Campo which was a great place to people watch. It's divided into 9 sectors which represents the members of the consiglio, or old town districts which take part in many competitions including The Palio, a world famous horse race, that takes place every year around the piazza. Some of the restaurants show film of it and it looks pretty dangerous! It was great to just wander through the narrow streets and spend long hours over lunch and dinner.
Two days later we took the short drive to San Gimignano to be greeted by our hosts for 2 nights at a small guesthouse owned by Mauro and his wife Marri. We arrived to be immediately hugged by her as though we were her long lost children. She spoke little English and we don't speak Italian but we managed to understand each other pretty well. Breakfast every morning was delivered to our own private terrace and came with lots more hugs. We had multiple hugs and kisses when we left so we now feel we're part of the family.
The town itself is described as a medieval Manhattan as the wealthy families built towers to show off to their neighbours until most of the town was wiped out by the Black Death. It's beautifully preserved and incredibly touristy, but it was delightful and we wished we had stayed here longer. It's set on a hill and overlooks wonderful rolling Tuscan countryside with vineyards ringed with Cyprus trees stretching as far as the eye can see. It's also home to lots of narrow alleys and streets and some sumptuous food and wines. We found two exceptionally good places to enjoy the local pasta, wild boar sausages and the best beef cooked in Chianti. It's also the home of the World Champion Gelato maker so we had to indulge. The diet we've been on over the last 6 months, losing a stone each (7Kgs), was quickly forgotten.
From San G. we passed through Pisa to take in the Leaning Tower and The Duomo before stopping in Lucca which is much more pleasant than Pisa town. The medieval walls are complete and spectacular as they are wide enough to be topped with a tree lined promenade. It's another town with lots of narrow lanes and is home to a Michelin recommended restaurant which wasn't particularly expensive and its signature dish was roast baby goat with small white onions……..it was mmmmmmmmmmmmmmm. We walked the walls, wandered the streets, ate goat and drank too much wine….again.
Our final stop before the flight home was to take a brief view of Lake Garda. It is very pretty but it's mobbed by foreign tourists and the restaurants served mostly fish which was a pity as we wanted to end our trip with classic Italian pizza and pasta. What we didn't get in great food was made up for by the room we managed to discount which had a terrace overlooking the lake. Perfect for a last Aperol Spritz and a few Grappas.
The honeymoon, as they say, was over and it was a short drive to the airport for a 2hr delay on the flight home……ho hum…….life was back to normal.
Diary Photos
---