Busy Doing Nothing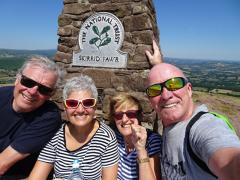 15th Jun 2018 - 4th Jul 2018
Midsummer Madness
The last few weeks have found us buying another car, taking our annual boat trip, enjoying a surprise encounter with a friend from Goa, a tiny bit of naughtiness and a trip to Brecon to meet more friends from Goa and a long scheduled get together with very old friends from Sydney, Australia. Finally, we've enjoyed some of the best summer weather in decades.
Before we went on honeymoon we had the car serviced. Sadly, Richard told us that it was time to let our faithful car move on as there was quite a bit of work to be done in the next few months. Albeit said it's been a great car and apart from the initial purchase price has cost us nothing. It was sad to say goodbye to our trusty workhorse but it was time to say goodbye. On the way home from Gatwick Airport we stopped off in Basingstoke to look at a replacement. We bought it and having been offered very little for a trade in we decided to sell the old one privately. There was a slight problem as we had plans throughout the summer so being in one place to sell it was going to be tough. Brother in Law Roy agreed to sell it for us in exchange for a 'financial arrangement'. It worked perfectly as the first person to view bought it! Our new car is a 2015 diesel Hyundai Santa Fe that does between 40-50% more MPG than the old very thirsty model.
Our annual narrow boat trip took us to Stratford Upon Avon, home of William Shakespeare and author of Romeo and Juliet which seemed apt after going to Verona for our honeymoon. The weather was fantastic and the canal beautiful but with one problem – horse flies! This might be the Chinese Year of the Dog but it's definitely the English Year of the Horse Fly……zillions of the little sods that just love the great taste of Neil. It was The Summer Solstice while we were on the boat and Neil dared Gail and Cheryl to celebrate in a pagan style. Cheryl said no but Gail, always up for a hoot, agreed and they both stripped off completely before running about 400m up and down the tow path. Nobody saw them which was probably for the best as it wasn't a pretty sight. Just a few minutes after they dressed 3 cyclists came along……phew, close shave.
We had a couple of visits to National Trust properties where Neil randomly asked about a particular painting which the volunteer guide said was painted to represent the 'Perfect Wife'. It's an allegorical portrait of a bride standing in an interior with her foot on a tortoise to illustrate the fact that she will not stray away from home. There are keys at her waist to represent the fact that she will be a good housekeeper and her fingers are held to her lips to illustrate the fact that she will not be a gossip. A dove held in her left hand represents the fact that she will strive to keep the peace, in other words, she will refrain from being quarrelsome. Hmmm, don't think that sounds like Cheryl somehow.
We also had a surprise close encounter with 'Stratford John' who frequents one of our favourite restaurants in Goa and we caught sight of some Morris Dancers performing outside a pub in Alvechurch. The photos show that a lot of them had the traditional 'blackface' makeup and they seemed a lot fiercer than the white hanky twiddling type who are more common further south. The performances were very energetic and enthusiastic, and the dancers were all ages shapes and sizes and having a great time.
Next stop was Brecon where we met up with more friends from Goa, Alison and Paul, who live not too far away. It was great to see them over a BBQ in the continuing wonderful summer. This was followed by several meetings with Chris and Viv from Oz who are in the UK visiting family. We had a couple of walks in The Beacons followed by lunch, BBQ on the final evening (yes the weather continues to hold even in Wales), lots of laughs and far too much alcohol…….the weight loss program is faltering!
Diary Photos
---