Busy Doing Nothing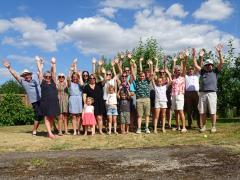 5th Jul 2018 - 29th Jul 2018
New Beginnings
We moved on to Gloucester for the family party scheduled for July 7th. However, our number 1 grandson made an unscheduled early arrival on July 5th causing 'mum and dad' a great deal of panic. Suffice to say, Toby's birth was very complicated. Well done to mum and the paramedics for knowing exactly what to do in such a dangerous situation. Toby Asher (this means happy, fortunate or blessed) is tiny, beautiful and doing well.
The big family party was great with the weather being very kind to us. Almost 20 brothers, sisters, nephews, nieces and grandchildren came together to make a fantastic day. Food was superb, a few beers and lots of laughing. Thanks to June and Roy for hosting the event.
We moved on to Cheltenham to meet up with Neil's old school friend Clive and his wife Karen. They too lead a semi-nomadic lifestyle, so it has been 2 years since we got together. We had to make it happen this year as Neil and Clive wanted to celebrate being 65 as their birthdays are just a month apart. More beers, great BBQ and lots more laughing and joking and reminiscing.
We're really moving fast now so after just one night in Cheltenham we took off down the M5 for a night in Bristol to meet Number 1 grandson for the first time. He didn't say much as he slept a lot but it was great to cuddle him and enjoy a celebratory bottle of bubbly with mum and dad.
One night in Bristol and we were away again. This time to just off the M5 near Taunton to base ourselves for a quick foray into Somerset and Dorset to check out new home possibilities. Ilminster and Crewkerne were to be checked out once more and Dorchester and Blandford Forum for the first time. It proved a successful trip as Ilminster and Crewkerne continue to attract and we agreed to visit again for a better look later in the month at Dorchester and Blandford Forum.
2 nights and we were on the move again. This time to have a more detailed look at Torbay and to meet up with Sue and Andy who are long term friends from Goa. Having previously been high on our list of places to move to, Torbay crashed and burnt after just 24hrs. We quickly concluded that it's just too big, there's too much traffic and Babbacombe Bay Promenade looked like God's waiting room! It was a pity as we had liked it the first time we came but then our evening with Sue and Andy more than made up for our disappointment. They bought a dilapidated listed home in a quiet suburb and set about renovation. As it's listed Sue did a lot of research, kept the project on budget and along with Andy's outstanding workmanship they made a great team. After 2 years they brought the 200 year old ex Admiralty house back to life. It overlooks the private park in a lovely suburb – it's fantastic. More bubbly to celebrate our wedding and the finishing of the house.
So, having planned to stay in Torbay for a week or so we changed plans again and after three nights moved back to Dorset to check out Dorchester and Blandford Forum in detail. Neither made the cut for various reasons so we moved to Sherborne. We like it and it's definitely on our list.
After 4 nights around Sherborne we moved on to Axminster which is fairly central for us to continue exploring South Devon and Dorset. Having had Budleigh Salterton on our list some time ago, but we crossed it off for being too small, it somehow came back onto the radar. So, having spent a little time there it's now very much in the picture along with Sherborne, Ilminster, Crewkerne, Bridport, Lyme Regis and Sidmouth. We think that's pretty much it for house location hunting so all we need to do now is sell our houses next spring and watch out for that bargain home that ticks all, or most, of the boxes.
Diary Photos
---