Backtracking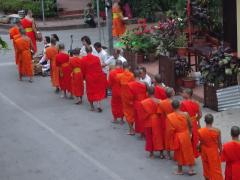 10th Mar 2017 - 23rd Mar 2017
Last Night at The Opera
Have you ever done a runner from a restaurant? We have…..twice!
We hadn't realised how difficult it was going to be to move onto Chiang Khong. It turned out that there was only one songthaew per day at 11am. We were warned by our hotel that despite it only being 50km away, the road was very bad meaning it would take at least 2hrs. We got to the bus stand about 30mins early just in time for Cheryl to grab the last available seat and for Neil to sit himself on top of 2 sacks of chicken feed with his feet hanging off the back. It was fine, a little cramped, but with rucksacks planted on the roof we set off early.
By the time we got to about 2/3rds of the way we were the only ones left and the driver, smelling money, informed us in Thai that this was as far as he went. We argued and then he came out with a new term, 'taxi, 500THB'. We argued some more, and a little more and a couple of local people from the village tried to intervene with their slightly better English. We sat still and wouldn't budge until eventually another man with better English tried his luck. We knew we were stuffed, it's the classic tourist scam, but we held our ground for as long as we could before settling on 300THB. We thought the proper price would be between 60-100THB each so we weren't unhappy about the extra 100THB or so. Off we set and at much greater speed until we reached the part of the road that was meant to be bad……it wasn't bad, it just wasn't there yet………it was in construction and very, very dusty. We bounced and bumped for the rest of the journey and arrived caked in dust – just as well our clothes were in the schedule for the laundry.
Thanks again to google maps – which tracked us without having data on the phone, we shouted as we arrived in Chiang Khong and were dropped right by our guesthouse….bonus!! Our room wasn't as fancy as the Mekong Riverview, but once again we had a superb view over the Mekong. We set about getting our bearings and also filling in immigration cards for Laos in advance as they were provided by the hotel.
We came to this border town to get the slow boat down the Mekong to Luang Prabang in Laos. It was a 2 day journey with a stop-over at Pak Beng. We could have done it on the cheap using the public boats favoured by the backpackers, but decided to pay about £40 extra each to take a luxury boat. This boat didn't cram lots of people in, included pickup and drop off at hotels, took care of your bags and walked you through immigration. What a breeze and well worth the extra money. Our boat took no more than 25 people, the public ones can cram in over a 100 on bad days, but we were only 14 which made it a very sociable affair. We had another Brit, Swiss, German, Belgian, Australians, Thai and a Dutch…..quite a mix considering we were only 14. We spent most of the time chatting to a young German couple on a 3 week holiday and the young Brit lad who had joined with the young Swiss girl to travel together for a while. We had a great time, laughing, joking and exchanging stories about various travels. We made a few stops on the way to the traditional villages, a bit of a human zoo, and also to a set of caves housing more than 4000 Buddhas. Our overnight stop was good, well it was for us as we had one of the best rooms (Lucky is Neil's middle name!), a curry in the evening followed by a few beers in a bar playing OK music.
The scenery was fabulous and watching the buffalo, goats, pigs, small villages and other boats was quite mesmerising as the boat made its slow way along the river. Finally we pulled into the pier, an unfriendly 10km from town, to be met by the tuk tuk guys waiting to pounce. Our tour included transport so we were placed into minibuses and whisked off to the centre.
Neil's luck ran out as we pulled up to our chosen hotel, Kinnaly Guesthouse. There was a building site opposite and they were enjoying using their power tools. Luang Prabang is very touristy, and attracts a more up market crowd so prices are high. We were paying £39/night and thought that would get a good room but we got a dud. The lobby wallpaper was peeling and the room followed the same tired theme. It was also tiny and not the 25 square metres as advertised. We had booked for 5 nights and decided this was not the place to relax in as we could barely get round the bed, there was no glass in the windows so the window shutters had to be closed to run the a/c leaving the room in near darkness. We gave the bad news to the girl on reception that we would be leaving next morning, and she wasn't happy.
We walked around and 'lucky' Neil managed to find a bigger room with a balcony overlooking our old friend the Mekong, with glass in the windows, and for about £11/night less – result! By this time we were tired, hot and in need of a drink. We stumbled upon The Opera House who had a happy hour and the best Margaritas we've had all trip.
Now the reason we booked Kinnaly Guesthouse was that the two balconies at the front overlook a street used by the monks on the early morning route around the town collecting alms. We were up at 5.30am and were rewarded by the sight of monk after monk in their bright orange robes silently walking along directly beneath us. There is a street in the centre of town which is the classic photo op for the tourists as the monks pass by a huge white wall, but this can be a bit of a circus, with some unruly tourists poking camera lenses into the faces of the monks and townspeople. On our little back street we could observe the local people doing what they do every morning with no other tourists in sight.
We had breakfast and of course, an argument as we left as the owner wanted payment for 2 more days. We refused and walked off. We later had an email from booking.com saying the hotel reported us as a 'no show'! We explained what happened and eventually got the link to leave a review – hah!
Our last days were taken up with a little sightseeing in the mornings around the beautiful town and meandering in and out of the wats and temples. Lunch by the river then afternoon in the room with the a/c on max. We met up with the guys from the slow boat most evenings for dinner, and as it's a small place we kept bumping into all of them around the town. We had great fun with them and hope they all enjoy their travelling wherever they end up.
Our last night was on our own and what better way to end than with the best Margaritas in town at The Opera House? Lucky scored again as it was Monday – the specials night! We succumbed to the lure of Lasagne and we were glad we did as it was excellent, and a decent glass of red wine was buy one get one free so we had to indulge. Neil carefully counted out our remaining Kip and declared we have enough for another wine – hurrah! We got chatting to a young English couple and as it was getting late we all left at the same time after paying the bills. We were then chased after by the young waiter –'Sir, Sir, not enough.' Neil had counted two 20,000 notes as 50,000s – well they are the same pinky red colour and it was dark in there and he didn't use his reading glasses! He opened his wallet and we counted out what was left, it was all small notes and we were still 10,000 short – that's about £1. The town was shut – everything closes early as the locals get up at 5am for the alms giving so we asked if we could pay them tomorrow. That was ok but they didn't open until 5pm and we were leaving at noon.
Now we do have form where doing a runner is concerned. Neil did it once when he was young and we are both guilty when we did this a few years ago in Bangkok. We got a shock when our bill arrived and we found we didn't have enough in the wallet to cover it. The restaurant was also a long way from where we were staying but we did have skytrain passes to get back. It wasn't short by much and the restaurant was quite busy so we just left all the money we had and left sharpish, actually once we were out of the restaurant we started to run down the road. We're still feel guilty about it and here we were again doing the same – but in a town packed full of monks and positive karma it felt worse.
Early next morning Neil got some more money exchanged and posted a 10,000kip note under the door of the Opera House. Karma restored, we backtracked to Bangkok for a couple of days revisiting some of our favourite places.
Tomorrow we fly to Kunming to start our travels in China.
Diary Photos
Diary Movies
---