Backtracking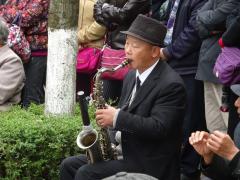 24th Mar 2017 - 28th Mar 2017
China Challenge
We had no Chinese money, couldn't speak Mandarin and the ATM at Kunming airport wouldn't take our card. Oh ****, looks like we could be leaving China earlier than planned if things didn't improve!
Anyway, things did improve. We arranged a car from the hotel and the driver was waiting with a sign in English! It was easy for him to spot us as we were the only foreigners in the airport. We chose our hotel because the reviews said that Rebecca Yang at the hotel spoke really good English…..she did and with an Aussie twang! We had emails from her confirming the taxi, train information and all sorts of other stuff but you can't actually type with an Aussie accent so it was something of a surprise. She told us where to get food, train tickets, how and where to catch the bus into the centre and what to eat or not to eat! She also walked us to the nearby Bank of China ATM which was good enough to cough up 3000CNY (just over £300)…………we breathed a sigh of relief……so did she as we could now pay her for the room and the taxi!
Our first observations of Kunming are that for a massive city of over 6m people it's a pleasant enough place to live. There's virtually no English spoken, all the scooters are electric and are unnervingly silent as they fly past you from all directions. There are lots of rubbish bins so there's hardly any litter, the traffic is quiet, people are dressed well, we haven't seen too many beggars and most of the cars are imported from Japan and Germany. There's also a huge amount of building going on – ready mix concrete trucks queuing to get into a site at 8.45pm on a Sunday evening. On the massive site next to the new metro project there's a construction going on 24/7. People are very friendly and helpful although our lack of Chinese does make it difficult when people try to help us.
Despite all the modernisation there is still space for the little man and his shop outside our hotel. We went in to buy a beer and some milk, nobody could understand what anybody was saying, and suddenly out comes his phone and he spoke into it, pressed a button and hey presto a voice from the phone said, 'yes, that carton milk'! So you can speak into it and get a translation or you can type into and get the same. Cheryl now has an app that if you scan some Chinese it will translate. Obviously it does make life simpler but it doesn't always work so sometimes we just have to smile, say xie, xie (phonetically cher cher which means 'thank you') and walk away. Everybody has been really helpful including an old guy in our favourite grocers on our second visit. We were trying to find out how much something cost and he tried to help with surprisingly good English. When we left with our 'xie xie' he replied with a huge grin on his face 'you're welcome'.
We were in Kunming for 4 nights exploring the city but more importantly getting set for the rest of our trip. Rebecca was brilliant giving us written translations for really common things and arranging taxis etc. In addition, which wasn't in the plan, we had to buy some warmer clothing aimed mainly at our planned walking later in the trip. It started off here at about 23C which was lovely after the sweltering 35C of Bangkok but it suddenly plunged to about 4C overnight so buying coats was essential. Ordering food has proved to be almost impossible as very few menus contain any English or pictures. Most of the restaurants we've found offer buffet hot pots which tend to be quite dull. Instead we've concentrated on food courts where the variety is huge and there are pictures that you can point to. That way you've got a much better chance of getting somewhere near to what you thought you had ordered! Food courts don't have much ambience but sometimes needs must.
We did some sightseeing to a temple and the big lake in the centre. At this point it was grey drizzle so we were very glad of the coats. We were amused by the groups of people, mainly elderly, dotted around the park dancing, singing, playing instruments or playing cards and mah-jong. Most groups bring their own large speaker system on wheels and we passed several groups all within earshot but each sticking to their own routines. What a great way to socialise and keep fit and active.
We moved on by train to the preserved town of Jianshui. It was an amusing journey as we were the only foreigners and we had the Shopping Channel brought right to our seat as train employees did a selling job on sweets and flexible toothbrushes of all things. Jianshui has some colourful old buildings and is a good place to stop off on the way to our ultimate goal, The Yuanyang Rice Terraces which is a Unesco World Heritage Site. Our onward journey was by local bus which proved to be something of an endurance test as men here seem to ignore no smoking signs and happily turn buses into smoke filled boxes – including the driver! The journey wasn't all bad as we did have lots to amuse us as we switched buses in Nansha for the final leg of our journey. We had planned to get to Xinjie and then take a minibus to the terraces but as we got off the bus in Nansha another bus driver suggested we take his bus to Duoyishu. There aren't many foreign tourists in China, and any that are in this area are all heading for the rice terraces so it wasn't surprising that this driver approached us. Cheryl had a quick look at Lonely Planet, it was close to where we were headed, and gave him the nod.
The bus took us to our original staging point of Xinjie and when we tried to get off the driver said we should stay put. When we say 'he said' it was all done by sign as he didn't speak any English. Off we went again, passing through a number of villages before getting to a small town where we stopped to let people off. Then our rucksacks that had been in the storage place at the back of the bus appeared inside the cab. What followed made us laugh so much as we became surrounded by boxes of food, snacks and all sorts of other things. The driver attempted to move on but the small town was gridlocked by double parked vehicles blocking the roads and we sat there for almost an hour while the traffic cleared. Nobody got angry…….it was amazing.
After a while the driver asked Cheryl for her phone again so that he could read the translated name of our guesthouse. We have been using booking.com and the app works offline to show the address of the hotel in the local language. There was a tense moment for us as he and his nearby passenger both looked puzzled and there were a few head shakes. He intimated that we should call the guesthouse but Cheryl, using her best sign language, explained that we did not have a Chinese sim. He called the owner and before very long we stopped, he told us to get off, and after a lot of shouting down the hill we were miraculously met by a small van that took us right down to our guesthouse……thank you lovely bus driver!
Have we mentioned before that 'Lucky' is Neil's middle name?
Diary Photos
Diary Movies
---