Backtracking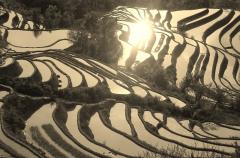 29th Mar 2017 - 7th Apr 2017
Reflections
As soon as we arrived at the Yuanyang rice terraces we were whisked off in shared minivan to see the sunset from one of the viewing points – what a mixture, French, Brits, Canadian and Japanese.
Our choice of Timeless Guesthouse turned out to be exactly what we had hoped – very sociable and with an owner who knew so much about the terraces and planned each day for all of us as soon as we had eaten breakfast. He joined travellers together so we could all enjoy the beautiful scenery and chat about it as we walked the terraces on the good days and visited markets. On the bad, cold damp days we sat in the guesthouse, hogged the only fire in the place and drank coffee and beer as we solved the world's problems and learnt about each other's countries. During the next couple of days we became great friends with Han and David from the UK, Eden from Canada, Gimena from Argentina, an Ex USA marine called Megan and a Portuguese lady who we never found out her name as she never sat still long enough.
Getting to and from the rice terraces was a long and difficult journey but it was oh so worth it. It's a Unesco World Heritage Site covering 12,500 hectares and is home to many different minority tribes that all come together on market day. It's a photographers dream to watch the colours change as the sun rises, moves across the sky before finally setting giving stunning reflections. The terraces were hewn out of the landscape by the Hani people centuries ago and today continue to provide extremely fertile land where many vegetables are grown as well as rice.
Our four nights on the terraces flew by and it was soon time to back track to Jianshui for one night before catching the overnight train to Dali. The Soft Sleeper was excellent and clean and we were very lucky to be sharing with 2 young Chinese girls who were very quiet. Dali proved to be a lovely place with well-preserved/restored buildings and lots of places to eat including Bakery 88 which offered excellent bread, cheese, salami, prosciutto and wine- all the things we had been missing for the last few months. Sadly, many of the bars and restaurants catered for the mainly Chinese tourists by pumping out music loud enough to wake the dead!
After a couple of nights we managed to share a taxi with a family to our next destination, Shaxi (pronounced Shassi). This was another preserved/restored town but it was so much more sleepy and relaxed than Dali. It is one of only three surviving caravan oasis from the old tea horse road between China, Tibet and India. Less well known than the silk road, it was just as important for trade and at its peak 20,000 Tibetan horses were traded for 1.5m tons of Yunnan tea. Horse rides are still provided for tourists through and around the village - quite evocative to hear them clip clop on the tree lined cobbled streets. It's not surprising that it's such a popular location for movie sets. Many of the guesthouse, including ours, and restaurants play very chilled Chinese Jazz – all this place needs is a Waitrose!
This was a place made to just chill out and relax and that's exactly what we did. We headed to the quaint village square each evening and sat in one of the many cafes to enjoy a couple of very strong G&T sundowners. We then followed the reviews in Tripadvisor and headed to The Hungry Buddha for dinner which offered excellent vegetarian and vegan food. Yes, you read this correct, we were eating veg and vegan! This place was set up by a Michelin starred foreigner chef who trained the local people who are excellent chefs, their skill and attention to detail was incredible. There are only 10 barstools set around the tiny open kitchen and it was just mesmerising watching them work as we chatted to other guests. In addition to the delicious food it offered excellent wine – result! On our last day we went to the huge market which was fascinating to walk around, take pictures and just enjoy the lively atmosphere as villagers came from far and wide to fill up their shopping baskets, grab some food and catch up with friends before heading home.
We make no apologies for the excessive number of photographs of old people, animals, colourful ethnic costumes and cute kids – these are our reflections of Chinese life.
Diary Photos
Diary Movies
---