Backtracking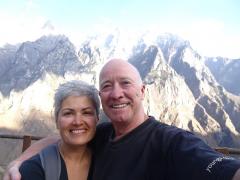 8th Apr 2017 - 13th Apr 2017
Michael Palin Stayed Here
Yes, it's true, we stayed in the same guesthouse as Michael Palin when he was filming his TV series 'Himalaya' in 2004. We were trekking in Tiger Leaping Gorge and happened to choose the same one, Halfway House G H. The owner, Mr Feng de Fang or Frankie, proudly displays a simple hand written sign advertising the fact. Our room, which cost about £17, had a wall of glass giving us a view of the mountains which Cheryl made full use of that evening. Her bed was so close to the window that she could lay in bed and watch the moon rise over the snow-capped mountains……..wow!
Tiger Leaping Gorge gets its name from the legend that says in order to escape from a hunter, a tiger jumped across the Jinsha River at the narrowest point and there are 2 large rocks where this is said to have happened. It's one of the finest treks in China through some of the most naturally beautiful and diverse landscapes China has to offer. The 24 km trail runs high on the northern side of the gorge passing through quiet villages, shady forest, blustery precipice and verdant terraced farmland. The snow covered peaks of Jade Dragon Snow Mountain (5596m) and Haba Snow Mountain (5396m) shadow either side of the gorge making it a dramatic scene.
Day 1 started with a 2hr bus journey with fellow trekkers to the park ticket office before we set off uphill on a concrete road. Unfortunately, the road was noisy and dusty from construction traffic. We've already mentioned in previous blogs that China is one massive building site and this beautiful gorge doesn't escape the march towards China becoming the largest economy in the world. It's investing phenomenal amounts of money on infrastructure and in particular its high speed trains that travel around 360kph (200mph). We travelled on one a few years ago from Shanghai to Suzhou and it was unbelievably smooth even at such high speeds. Travelling so fast means very few bends which inevitably means that the lines go through numerous tunnels rather than around mountains. Tiger Leaping Gorge is no exception meaning that the train will hurtle out of the mountain tunnel, speed across a 660m long 250m high bridge over the gorge before thundering into the tunnel on the other side. We've calculated that this will take about 6.6 seconds from the time the nose exits one tunnel before the nose enters the next tunnel (maths freaks please feel free to put us right on this one). We've also managed to find an artist's impression of what it will look like when it's finished in 2020.
Anyway, having negotiated the concrete road we finally found the poorly signed path and headed up the hill. It was 1.5hrs of relentless uphill before reaching Naxi G H where we had lunch. We were off again within 45 minutes to attack the infamous '28 bends'. Infamous for 2 reasons – firstly, there are many more than 28 and, secondly, it was more of the same but this time it was 2hrs of muscle numbing slog. Across the top we walked around 4hrs to Halfway GH. It should have been 30 minutes less but at one point the path was so poorly marked we chose the wrong route twice before finally plumping for the correct one…..the one in the middle! By the time we arrived Cheryl was absolutely knackered from the day's exertion which wasn't helped by a stinking cold. (As we write this Neil is now suffering from man flu). After a few beers, chats with fellow trekkers to raise our spirits and some excellent food we went to bed, watched the moon rise and slept soundly.
On day 2 we rose late, had a massive trekker's breakfast, and set off towards the end of the path. At first the route was a good rough road before it became very narrow. At some points it was a tad scary as there was nothing to prevent you tripping and falling far enough for rescuers to need several small boxes to scrape up the scattered body parts to enable repatriation. With the vertigo overcome we moved on to a very severe downhill section which was very punishing on the joints. After about 2.5hrs we reached the end of the upper trail and we both came to the reluctant conclusion that to head down even further to the river on day 3 would be a massive mistake. We decided to cut our trek short by one day and walked into Tina's GH where, with real sadness, we booked a ticket on the bus that afternoon. Trek over.
We thoroughly enjoyed the stunning scenery but, sadly, we didn't enjoy the trek. The really annoying thing was that we had done the hard part and the steep 3 to 4hr walk down to the river should have been relatively easy. However, Cheryl's knees were gone so it was game over. The main problem was that the path was nothing like we have been used to in Nepal or in the UK for that matter. It was rough with many trip hazards, gullies that required total concentration to avoid twisting an ankle and dust and pebbles on the steep down hills where you could so easily have your feet go from under you and land on your backside. We were permanently staring at the path so that we didn't come to harm. We were very sad to quit but decided to be cautious as we still have one more week of sightseeing before we fly home.
There is an upside to this tale. We met some fellow travellers from London, Han and David, when we were in Dali. They came to Lijiang a few days before us and checked out a restaurant called LaMu's House of Tibet that serves excellent Tibetan food, superb western food as well as the usual Chinese favourites. They also offer a good measure of Gordon's gin and tonic with ice and a slice plus a very large glass of pretty decent red wine. Obviously neither the excellent food nor the drinks were cheap but after weeks of Chinese food a decent beef chilli, dried fried yak meat, spag. bol, or pizza washed down with a dry red takes a lot of beating. Yes, we know we're home soon but give us a break – we ache like hell, have man flu and, anyway, we deserved it! We had a regular booking at a window seat that made us feel like the old guys from The Muppets sitting in the gods and watching the world pass by below.
After the visit to frenetic Dali we weren't expecting to like Lijiang as it has an even worse reputation for Chinese tourist madness. However, we actually enjoyed our stay and you can see from the photos that we spent each evening walking back from LaMu's taking photos of the twisty narrow streets, small rivers, and the myriad of shops offering drums, clothes, hats 'n cats, bric-a-brac and much more. It was great fun asking the young Chinese tourists dressed in their funky clothes to pose for us. Also, take a look at the picture of the fire engine – that will show you just how narrow the streets are here in this very pretty ancient city which is surprisingly large. It's not just firemen that get a mention here. Check out the video of the rubbish collectors that come around in a small truck twice a day. The vehicle plays a very loud Chinese tune that is really quaint for us to lie in bed with a cup of tea and listen to as they pass below our balcony. However, it must be totally maddening for the workers who have to listen to it all day, every day!
Tomorrow we fly to Chengdu for our final stop before heading back home.
Diary Photos
Diary Movies
---