Christina's Life - Living it!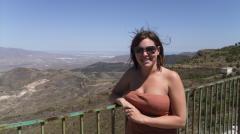 9th Jun 2012 - 24th Jun 2012 - Med 2012




Escape from Almerimar



After 2 great weeks here in Almerimar we're actually setting sail tomorrow to start our 2012 Med Adventure although the last 2 weeks haven't been exactly quiet… we've worked hard, had great fun and have had our fair share of drama too!!

Jodie was with us for the first week, we stayed in a great apartment and scrubbed, cleaned, painted, packed and unpacked and that was just to get Amy back in the water but did get a great sail in around the bay before Jodie flew home.

Surprise surprise we've partied hard too with so many wonderful people, old and new friends alike – We met a mad Welshman that took us all up into the mountains for a wonderful day out - amazing views, hot water springs and even saw Ostriches. We've drunk an inordinate amount ….not all alcoholic though and we've blown the diet too - eaten so much from free tapas to Chinese and even a delicious dinner party on board. We've been to karaoke, listened to lots of live music, jived the night's away, watched football, rugby and last night joined 1000's of Spanish families to celebrate the San Juan festival with bonfires, bbq and booze on the beach with a quick dip in the sea at midnight supposedly to wash away our sins!!

Chris has been honing her fishing skills with her first few catches of the season – a lucky trigger fish – lucky because she threw him back –also luck was with a six year old little girl who fell off the pontoon, Chris was heroine of the hour when she dived into the marina to save her – She's now become her best friend and surrogate aunty!

So now it's off to say goodbye to all – whoops a bar crawl coming on one thinks (just as well we're leaving we couldn't keep this up much longer!) but hey we're up at 5.00am tomorrow to set sail en-route for Ibiza – we've got just short of 3 weeks to do the 350ish miles to get there before our flight home on Friday 13th July for just a week to see Jodie in her show in Wimbledon and then who knows where the wind will take us!



Diary Photos
---