Comers Corner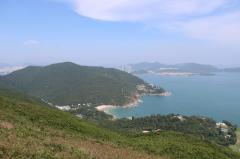 16th Oct 2016
Dragonsback Ridge
We got up and discovered it was a beautiful day with clear blue skies so off e headed for an island trek along the Dragon's back ridge, named for it undulations, but described as the best urban trek in Asia. The views were beautiful. We headed out on the metro, and then used a local bus to get to the start. there was a small crowd disembarking the bus with us, so we didn't hang around and just started walking. The trail was busy as it was a weekend and good weather - seven million people on an island need something to do at a weekend after all! Some sections were crowded but it was still a lovely walk with some fabulous views out over the bays. We headed down to one of the bays, known as Big Wave Bay. Very appropriately named! Anja and I braved a swim to refresh ourselves, and had to be content with being hit by waves and literally getting sand everywhere! There were a lot of surfers around so for our own sake we erred on the side of caution. It was good fun trying to get past the waves even though we didn't succeed! Successfully changed and still discovering sand i places where it shouldn't be, we rewarded ourselves with a barbecued sausage on a stick (not nuclear like the Chinese sausage skewers) and caught the bus back to the metro.
We headed back to Anja's flat and relaxed for a couple of hours, before heading to Causeway bay on the tram to have a look around and to find some dinner. As with many Asian cities, it comes alive at night. As Anja described Hong Kong, shopping is a National Sport so most shops stay opened pretty late and the area was buzzing. We found a steakhouse which did beef burgers with blue cheese and bacon sauce - epic!! Tired out, we made our way back to the flat and crashed out.
Diary Photos
16th Oct 2016 View from the Dragons Back ridge hike
No Description
---
16th Oct 2016 Big Wave beach where the waves were huge!
No Description
---