Comers Corner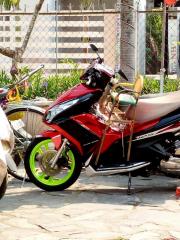 11th Mar 2017
Relaxing in Hoi An
I enjoyed a nice easy morning and the luxury of waking up and knowing that I had no reason to rush to be anywhere. Breakfast was included so I enjoyed an omelette and the delicious Vietnamese bread - which is fairness is like a french baguette, hence I like them so much. Thank you France for leaving that legacy behind!
Carly and I made our way back to the little dress shop so I could try on my new dress which needed a minor alternation but was a pretty good fit. Carly succumbed and brought herself something too, and we headed to the beach for a few hours to chill out and enjoy the sun and warmth that was missing in North Vietnam. The beach was a few kilometres away and as time was getting on we used a taxi which was pretty cheap in spite of warning of tourist scams. It was on a metre and comparable with the rest of Vietnam. the beach was lovely white sand, fairly busy, although not great for swimming as there were weird sandbars so it would alternate between shallow and deep every couple of metres. I found I would just start to swim and then I was practically on the seabed again! It was nice and refreshing though and a good temperature.
We stopped for some lunch before heading back and trying on our new clothes which now fit perfectly. I headed back to the homestay to collect my bags, and then headed down to the bus company office ready for my overnight bus. Running a little early, I enjoyed an ice coffee to pass the time before heading to the office for 5.00pm. The most frustrating thing about these overnight buses is that you're given a time to be there, then asked to come back half an hour later, lead down a couple of streets, hang around on a street for half an hour before finally being allowed to board the bus. It's then another half an hour before it finally departs. They could just ask us to turn up at 6pm. At least I didn't need to worry about the wrong pick up this time, it's always less complicated without the middle man.
Anyway, I settled in for the journey and everything seemed to be going well until our driver stopped at a tyre workshop. It was about 10pm so of course there was no one around, but he managed to raise a guy to come and put more air in a back tyre. We had a flat tyre. I think it slowed him down a little and he drove relatively cautiously, stopping for a dinner stop at 11pm, and then at 12.30am found another tyre place who were able to help him change the tyre. I'm assuming he didn't have the right kit on board to do it himself as a tyre change isn't difficult, but I wasn't about to get involved. We were finally on our way again after 1am and I managed to get some sleep.
Diary Photos
11th Mar 2017 Who needs a side car?
Hoi An, Vietnam
---