Comers Corner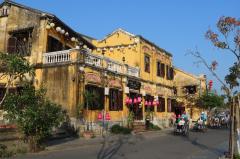 10th Mar 2017
The wrong bus
An interesting start to the day! My bus pick up was supposed to meet me at 8am, so I was happily eating my breakfast when it arrived early. I showed them my ticket, had my bag loaded and got to the bus station, only to find it was the wrong bus - why they picked me up is beyond me! Anyway, they organised a taxi to get me back for the right pick up and I was back on track.
Boarding the bus to Hoi An, I had purchased an 'open' bus ticket to Dalat which allows me to get off at stops in between. Anyway, the conductor took my ticket and I told him that I needed it back. on my last bus journey I had seen the conductor reissue tickets so I wasn't too worried when we left and I still hadn't got it back, and there were other people on the bus who had done the same.
It was a sleeper bus with Camel company and the driver was remarkably sane (this is a noteworthy element as they usually drive at a rapid rate beeping their horns furiously and cornering on two wheels). The scenery had changed from mountains and hills to beaches and palm trees on one side, a wooded hills on the other. It was very pretty but I didn't manage to stay awake and slept for a couple of hours, waking as we reached the city of Danang. Danang seems like a very modern and clean city - maybe one to visit if I come back. It was only another 30Km to Hoi An and we were dropped off in town, still with no sign of our tickets. Asking the bus conductor we were directed to the Camel office so a group of us headed down there together working on the policy of strength in numbers! I get the impression this happens fairly regularly, as the guy in the office just made a couple of phone calls, asked who we'd booked through to confirm the ticket bookings and reissued a ticket. It worked in my favour really as I'd been chatting to one of the other lasses, Carly, who didn't have a place to stay lined up and was easy company, so we stopped for a coffee before heading to my homestay where it turned out we could get a shared room for just a dollar more each than a dorm bed. Done!
We settled in, before changing to cooler clothes as the temperatures had hit 30 degrees and we had blue skies. Fantastic! We headed towards the old town to explore, and found picturesque streets lined with trees and lanterns following the river. It's very pretty, albeit touristy, but it's touristy in a nice way. Ticket officers tried to sell us a ticket for the old town, which gives us entry to five sights/museums, but I didn't want to see any museums, I just wanted to wander so we turned around and entered by a different street. I had checked online - you don't actually need a ticket to wander the streets but we were certainly made to feel as if we should have one! We stopped for some lunch at a riverside restaurant, which was a local price much to my surprise. There definitely are tourist rate restaurants, but the food we found was on a par with the prices I had been paying at local restaurants in North Vietnam, and a fraction of the prices Carly had been paying. It sounds like she has been in expensive company targeting the tourist restaurants. We tried Cau Lau, a regional dish of chicken, noodles and leafy greens which was yummy, before continuing with our wanders around the old town.
Hoi An is famous for it's tailors, and I succumbed to a pretty little dress which was a great price and tailored to fit so worth the pennies. I placed my order, got measured and need to return tomorrow morning to try it so there is time to adjust it before my night bus tomorrow evening. The other item I was sorely tempted by were the silk lanterns which look so pretty when lit up as night, but on closer inspection I felt that there was no way I could travel with them until May as they are sure to get broken so sadly walked away. this is when I miss having a truck to store things on until I fly home! In fairness I have enough lanterns and lamps from around the world now, to go in the house that I don't have so it's probably just as well.
We wandered until it was dark, and made our way back to the river front where the lanterns were all switched on, and it was beautiful walking along the river. we stopped for a light dinner called hen xao, which is finely chopped clams mixed with herbs and a sauce which was really tasty. The local food here is excellent, and I don't just mean in Hoi An, it's been great throughout Vietnam. I'm glad I squeezed in the time to come and visit the town as I so nearly didn't come here and it would have been a shame to miss it. I do think a night or two would be enough though unless you're coming on a serious shopping spree!
Diary Photos
10th Mar 2017 No Title
No Description
---
10th Mar 2017 No Title
No Description
---
10th Mar 2017 No Title
No Description
---
10th Mar 2017 No Title
No Description
---
10th Mar 2017 No Title
No Description
---