Comers Corner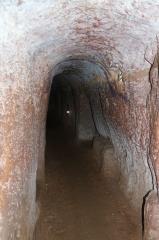 9th Mar 2017
Tunnels, tombs and citadels
Today ended up being a much busier day than I had originally anticipated. The bus was collecting me at 6.30am. It was a Vietnamese 6.30am, rolling in at 6.45am as it was travelling around the town doing door to door collections. We headed south with the air conditioning on baltic. I stood it for about half an hour before checking with the rest of the bus who were all huddled into their coats (I'd been waiting for the bus in a T-shirt) and were relieved at the request to adjust the temperature. Conditions got more comfortable, and I fell asleep as we made our way to Vinh Moc.
The tunnels at Vinh Moc are impressive to see. There were 2Km of tunnels constructed in this area, spilt over three levels. In addition there were numerous narrow trenches, 2 metres deep, and covered with bamboo to prevent them being spotted from the air. This whole network of tunnels and trenches were constructed to help North Vietnam deliver firearms and weapons to South Vietnam on the opposite side of the Ben Hai river. It is a zone known as the demilitarised zone (DMZ), spanning a strip of land from the Laos border to the sea spanning 5Km, with the Ben Hai river being the official 'divide between North and South Vietnam. The Americans wanted this key point to prevent the militarisation of the South of Vietnam, so ironically the area became one of the most heavily bombed areas during the war, with a total of 7 tonnes of bombs per person being dropped. There are photos of the pockmarked land, literally riddled with bomb craters, which after the war were filled in by villagers so they could farm the land again, with a huge risk of landmines and unexploded devices which regularly caused horrendous injuries and fatalities. With the exception of a couple of areas of reinforcement, the tunnels are largely untouched and after the first 20 metres you are in original tunnels, passing tiny family rooms of just a couple of metres for five people, maternity wards, and a slightly bigger meeting and entertainment room. Very interesting to see.
From the tunnels the bus headed to the Ben Hai bridge, and another museum with more information on the war, after which we strolled across the old bridge and got the good old one leg in the North and one leg in the South photos. It was definitely worth the visit, and I learnt a lot about a war which I actually know very little about.
We continued to Hue where I had to find a place to stay. I wasn't difficult, the first place didn't have availability but made a phone call and I found myself with a private room for $2 USD more than a dorm which feels like a bit of a luxury after the amount of shared accommodation I've been in recently. Hue is famous for it's Emperor's and tombs. The bus to Hoi An leaves tomorrow morning, so I knew I had to do my sightseeing this afternoon. I headed into town to change some money and find some lunch which ended up being pork noodle soup in a pavement cafe with a group of locals. One of them started chatting to me, and turned out to be a xe om driver so offered to take me to see one of the tombs and a pagoda site, before dropping me off at the Citadel which encompasses the Royal Palace. I had to do some hard negotiating with him to get him to a reasonable price, but after 5 minutes we were agreed. It was worth it, some of the Emperor's tombs are beautifully ornate and impressive. Sadly I didn't have time to go to the most impressive sights, but even the smaller ones were worth seeing.
The Citadel was impressive. Built between 1804 and 1833 by Emperor Gia Long founder of the Nguyen dynasty, the Royal palace is in it's own Citadel with a moat, inside the first Citadel, which also has a moat. The gates are beautifully decorated, and although the site was badly damaged by bombs during the war, there is still plenty to see and UNESCO are working hard to help restore other buildings and gardens on the site. Some of the old Emperor's artefacts and photos are still displayed, and the welcome hall of the Emperor is full of carved pillars, and gold platforms and throne for welcoming visitors. Of course this is the part you can't take photos of! It was very peaceful inside the Citadel, which is almost a small town nestled in the heart of Hue. Sadly the continued fighting with the French occupation, and then with the American War lead to the end of the Nguyen dynasty in 1945.
I wandered my way back to my hotel, and en route I got accosted by two Vietnamese students who wanted to practise their English, so I sat down with them for an hour and had a chat. They were very sweet, and very keen to learn. Another of their friends came and joined them, and I think they would have had me there all night if I hadn't said goodbye as I needed to find something to eat!
Diary Photos
9th Mar 2017 No Title
No Description
---
9th Mar 2017 No Title
No Description
---
9th Mar 2017 No Title
No Description
---
9th Mar 2017 No Title
No Description
---
9th Mar 2017 No Title
No Description
---
9th Mar 2017 No Title
No Description
---
9th Mar 2017 No Title
No Description
---
9th Mar 2017 No Title
No Description
---
9th Mar 2017 No Title
No Description
---
9th Mar 2017 No Title
No Description
---