Comers Corner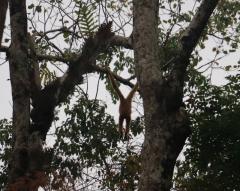 14th Mar 2017
Gibbon tracking
Early start! The gibbon tacking trek was scheduled to start at 5.00am, so my alarm went off at 4.30am. Not that I needed that long to get ready, but it does help to have some extra minutes to wake up when there is no coffee involved to help get me going! I met my guide, Tom, outside the reception building, and we walked about a kilometre down the track, and then into the jungle until we reached an old tree with great buttress roots to sit on while we waited for the gibbons to start their morning singing. It was quite pleasant sitting there in silence listening to the jungle noises as the nocturnal animals go to bed, and the rest of the jungle starts to wake up as the sky lightens. While I was sat there I saw a mammal 'fly' from one tree to another. I thought it was a flying fox, but Tom described it as a flying weasel, which I have never even heard of, so I suspect it may be lost in translation. I've googled it but the wifi isn't really good enough here so it will have to wait! I also saw a civet cat disappearing up a tree.
We heard the gibbons start to sing, but it turned out that they were from the primate rescue centre across the river. Tom left my briefly to see if he could hear the other gibbons, and was back in an instant once they started singing. We headed off the jungle path, straight through the bamboo and undergrowth to go and find them. It was really good fun, not that easy to pick our way through some sections, but we reached them within about ten minutes. I still couldn't actually tell you how many we saw. There was one female, golden brown in colour, plus an adult male, black in colour and at least one juvenile. They were really high up in the trees, which is where they like to stay as it is safe for them up there. We followed them through the jungle, for about 1.5 hours, watching them swinging through the trees, playing and fighting over food. They are usually so difficult to spot and there were a couple of times that I thought we had lost them, and then Tom would spot one of them again and we'd be scrambling our way as quietly as possible through the jungle again to follow the family. It was well worth doing, and there is something very special about being able to watch them in the wild.
At 7.30am we headed back to the lodge for breakfast, and then I had an included trip to the primate rescue centre at 8.30am. Just enough time for a shower and to pick bits of bamboo out of my hair! For the trekking I had been lucky enough to be all on my own (numbers limited to four people), but it was nice to have company for the centre which was extremely good. They look after four species of primate, three endangered and one critically endangered. Ironically the only species we were able to see where the golden-cheeked gibbons, as the slow loris and pygmy loris were sleeping, and the black shanked doucs are in the middle stage of rehabilitation so in a semi-wild enclosure, and currently they don't have any silvered langurs in care which is great news as it means they haven't found any illegally for sale in local markets. It was very interesting to see, to have the chance to learn a little more about the primates and they have a 85% success rate in returning the primates to the the wild which is a great rate. Those that are kept is due to them having contracted a virus from being in such close contact with humans, and they would only infect the healthy wild population if released, but at least they have a better quality of life at the centre than in a flat or cage somewhere.
Returning to the lodge, I checked out and hired a bike. I still had a whole afternoon to explore some more of the National Park, so I headed out on a 9Km bike ride, followed by a 5Km walk to reach Crocodile lake Now 9Km on a bike isn't very far, and initially it was a concrete track which was fine on my bike with a basket and no gears. Then it became a rocky dirt track which my bike with no gears, designed to go to the local shop and back, really didn't like. Butterflies were flying faster than I was moving as I bumped down the road (they were really pretty though). I was quite relived to get to the jungle track to walk to the lake! It was a lovely track, full of jungle sounds, noisy cicadas that fell quiet very time I reached their tree, hundreds of beautiful butterflies, large trees with their impressive buttress roots, and fungi growing on dead trees. Also a lot of different species of lizards, and some beautifully coloured species of tropical bird.
Reaching the lake, it is possible to hire a canoe and head out to see the fresh water crocodiles. They were endangered, so got moved to the lake as it is in a protected area, so this is the only place in the park where they are found. I was running out of time though, and having seen a few crocs over the years I decided against it and headed back to my bike. On the way I disturbed a bright green snake sunbathing on a tree root next to the path. It was about 18 inches long, and very skinny. Again, one to google!! I asked the guys at reception when I got back, but they didn't know what it might be.
The bike ride back was worse than the journey out. I hadn't noticed the slight decline in the track on the way out as I think I was concentrating on the path too much, but I certainly noticed it on the way back as it was even harder work than the way out! I was very happy to reach concrete again, and stopped at a lodge to grab some more water before returning to the reception. It had a lovely view over some rapids on the river, and also gave me the chance a rather dark storm cloud looming over the jungle and heading my way. I didn't hang around, I jumped back on my super-performance rattly bike and peddled as fast as I could go back to the reception to collect my bags. I wanted to move to my new lodge before it started raining if I could. I dashed (rather lumbered with my bags) down to the ferry, reaching it just as it was departing, and as we crossed the river there was some spectacular lightning lighting up the clouds that were almost upon us. Fortunately my lodge is literally 300 metres from the ferry crossing, so again I dashed (lumbered) down to the lodge and got checked in just in time. Five minutes later the heavens opened, but I was happily under cover in my bamboo lodge swinging in a hammock as the rain thunder and lightening went on around me. It lasted about an hour before clearing, at which point I decided it was time to find some dinner because I was starving!
Diary Photos
14th Mar 2017 No Title
No Description
---
14th Mar 2017 No Title
No Description
---
14th Mar 2017 No Title
No Description
---
14th Mar 2017 No Title
No Description
---
14th Mar 2017 No Title
No Description
---
14th Mar 2017 No Title
No Description
---
14th Mar 2017 No Title
No Description
---
14th Mar 2017 No Title
No Description
---
14th Mar 2017 No Title
No Description
---
14th Mar 2017 No Title
No Description
---
14th Mar 2017 No Title
No Description
---