Comers Corner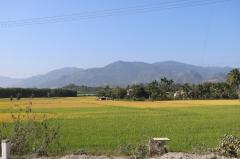 12th Mar 2017
Da Lat
The bus rolled in to Nha Trang just before 7.00am and we were given a bit of time to stretch our legs and to grab a coffee. I'd met a Canadian guy who was also going to Da Lat, so we headed off to find a coffee together. The first cafe didn't have any hot water (although they gave us hot tea?) so we moved on to another and enjoyed a view out over the beach with white sands and palm trees. It looks lovely, but very much a seaside resort and apparently it is very popular with Russians. General feedback from other travellers was that it wasn't really worth a stop so I'd missed it out, but it was a pleasant place to spend half an hour before clambering on to the next bus.
The next bus wasn't a sleeper bus, it was a local style bus, therefore small seats, tiny aisles and not a lot of leg room. A few of my fellow travellers weren't very impressed, it certainly isn't designed with large European men in mind. These are the times when I find my short stature of particular benefit as I fit quite nicely.
The drive to Da Lat was simply stunning. Rice paddies with rolling mountains rising behind them. The weather was perfect too with blue skies and without the winter haze that seems to hang across the Vietnamese landscapes at this time of the year. People all around me were falling asleep, but the mountain road and views were beautiful and well worth staying awake for. We had a pit stop half way through where I found a barbecue pork roll which was delicious and made a great breakfast. the next section of the drive passed through coffee plantations and forests. Da Lat is situated at 1500 metres above sea levels so we'd ascended quite a way from sea level and the landscape was very different.
Arriving in Da Lat, the bus only dropped us 1km from my hostel. I had a few reservations about this one as it is only $4 USD per night and I wasn't sure what to expect, but I need not have worried as it is lovely. A great location, spotlessly clean, my bed was queen-sized, good facilities, and unbelievably breakfast was also included for the price. I'm not sure how they make any money but I'm glad I found it.
So Da Lat is an old French holiday resort, built to escape the heat of Saigon. the houses are French colonial in style, there is a pretty lake in the middle and some nice gardens, and a mobile phone tower shaped like the Eiffel tower, but that's where the French feel stops. Abruptly. Reviews describe this town as laid back and relaxed, and a destination for Vietnamese honeymooners which was a complete contrast to what I actually found. The place was frantic! There was typically Vietnamese traffic barreling down every road, and the public spaces were too close to the road to have a hope of being peaceful. A real shame as in essence it is a pretty town, but one built for a different pace f life to that being lived there at the moment. It does however have a great indoor and outdoor market which was bustling and vibrant. My lasting impression is that the draw of Da Lat is found it's surrounding areas, rather than the town itself.
I had one of my more interesting experiences in Da Lat. There is an attraction know as the the Hang Nha Crazy House, which is an artistic surrealistic example of architecture made on concrete. It is a maze of steps, buildings and narrow concrete walkways and bridges - none of which ever seem to take you where you think they will, and it is one of the most random experiences I have had since I have been in Vietnam. Once in, you're sure to get lost and it easily took me 10 minutes to find my way back to ground level once I had started trying to get back down!
Diary Photos
12th Mar 2017 No Title
No Description
---
12th Mar 2017 No Title
No Description
---
12th Mar 2017 No Title
No Description
---
12th Mar 2017 No Title
No Description
---
12th Mar 2017 No Title
No Description
---
12th Mar 2017 No Title
No Description
---
12th Mar 2017 No Title
No Description
---
12th Mar 2017 No Title
No Description
---
12th Mar 2017 No Title
No Description
---