Cookies Great Escape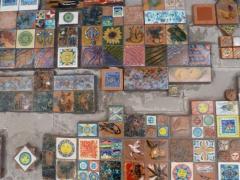 13th May 2012 - 19th May 2012
Cinque Terra and Pisa
Hi All,
Well before the memory departs, I though I would update the blog with as much info as possible. Caro and I flew out of London on Sunday 13th May and into Pisa where we caught a train from Pisa Central station to La Spezia which is a short 10 mintue train to Cinque Terra. Naturally we arrived when their was a train strike on so caught a taxi with a lovely Califonia couple to our village of Riomaggorie where we stayed.
So some info on Cinque Terra.. bit from me, a bit from the internet! (mostly internet ;-)) it basically means five lands and is a part of the coastline of the Italian region Liguria that comprehends five villages: Riomaggiore, Manarola, Corniglia, Monterosso and Vernazza. The hillside that surrounds these towns is the portion more uncontaminated and charming of this region, therefore the villages, the coastline and the hillside has been a natural reserve since1997 to preserve this reign made of wild scents, and they are part of the UNESCO world heritage list. The coast could appear as inhospitable because it's rocky and steep but it is rich of charming bays, beaches and wonderful panoramic paths that waits only to be discovered. But the Cinque Terre isn't only seaside, in the hillside it hides beautiful medieval villages, sanctuaries, workshops and typical dishes. We want to suggest you 10 important things to see in this beautiful coastline, among interesting natural paths (that can be done by feet or by boat) to have an unforgettable holiday.
So on arrival after dropping off our bags, we went for a wee explore of the village and the where to eat. We found a cool little resturant and while Caro made the most of the seafood, I found a nice stew of veal, peppers, tomotoes, olives etc.. mmmm and off course a nice white wine to compliment. After dinner while Caro did some work on the internet, I had a wee nap.
Monday morning was Caro's birthday so after waking her up with a very bad rendition of Happy Birthday and having confirmed the sun was actually shining (very exciting moment) we headed down for breakfast and then made out way to the station to start of day of exploring. We first went to Levanto which is a village just past Monterosso to see what it was like, not ultra exciting, so after 30 minutes of looking and walking we headed back to the train and Monterosso was the next stop.
On arrival at Monterossi, we re sunblocked up (well Caro did, I did my first and only coat for the day), brought more water and headed off on a 2 hour walk from Monterosso to Vernazza. The first bit was pretty hard going as it was the climb out of the basin and up the hill/cliff! After a good walk, we arrived at Vernazza having walked during the heat of the day and were on the look out for PIZZA. Vernazza is currently not looking great due to some significant flooding in October last year which basically wiped out all the shops and resturants in the bottom section of the village, so althought this is supposed to be the most amazing of the villages.. I would say not right now.
We found pizza, lemon soda and brushetta and basically inhaled it we were so hungry! I had promised Caro gelati for her birthday so having got a big gelati and exploring the village, we set off to find the next walk between Vernazza and Corniglia. Due to the floods, the coastal walk was washed out and as a result we had to take the alternative route. Now if I thought the last walk was tricky, the next was Insanely Tricky!! We didnt pass anyone the whole way, basically walked to where the map said to go and then couldnt find the track to go onto so had to walk another way which meant we doubled back part of where we had just walked, so instead walked down the road until we found another path further down. After about 2.5 hours we arrived in Corniglia (about 7pm!).
Corniglia wasnt overly exciting but we spend a good 30 minutes exploring before heading to the train and going back to Riomaggorie. On arrival we showered and headed out for dinner.... HUNGRY! A great Spagetti Carbonara was devoured, plus wine plus some great bread that the owner gave us having told him where we had walked. Think he was pretty impressed we did the second walk..
Tuesday morning we set off from Riomaggiore to Manarola along the coastal walk. This was like a walk in the part following yesterdays walk.. much like a trip around westfield (for londoners), home to Mission Winery (one way) (for mum and dad), home to Shopping Centre (scott and co).. so NOTHING! Anyway we spend some time looking at shops in Manarola before finding the next track to take us onwards to Corniglia. Again due to the floods the coastal track was washed out so again we were looking at a steep incline and hideous dissent but the views inbetween were magical. Trick was not to stop for long otherwise legs had a few issues starting again.
On arrival at Corniglia we walked through the village another way then trained to Montorossi for lunch, a proper look around the villages (proper village feel, cute wee shops etc) then we went for more gelati and some time on the beach.. ahhh SUN!!! Around 6.30pm we headed back to Riomaggiore for showers, dinner then a walk to see if we could get some good night pics.. oh yes and maybe more gelati! :-)
Wednesday we packed up and explored Riomaggiore before heading into Pisa about midday and having checked into Caro's hostel, we hit the tower.. leaning tower that is! Amazing and that thing is on a pretty good dam lean! How is standing I have no idea. Opted not to walk up it simply as we couldnt have bags on us and not so keen to leave my passport with strangers.. and who knows that thing could have fallen over.. not taking the chance. Having snapped some pics with the other million people there we walked around Pisa for a few hours then grabbed some dinner, more wine (and can confirm the tower was on a lean before I had the wine!! pics to prove it) and then it was back to hostel where i grabbed my bag and said goodbye to Caro for a few weeks and headed to the airport.
As my luck would go, my flight was delayed by just over an hour due to one of the Gatwick runways being shut so arrived into Gatwick around 1am, got home finally at 3pmish and was up for work by 5.30am... oddly was in pretty good form on Thursday, had an AGM after work so worked till 6, agm 7.30 got home about 10.. Friday I was a little dead! Ha
Oh well enough rabbiting on from me, next trip is in 2 weeks today.. Boom!!! Portugal and Spain here I come!
Love to all
x
Diary Photos
---