The Meaning of Life Explained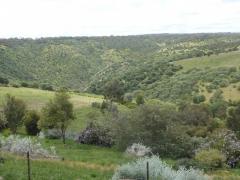 31st Oct 2016 - 2nd Nov 2016
Koala Kuddling Time
Our time in the bush is over for now as it's time to fly down to Adelaide in South Australia to meet up with brother Des arriving from London and to visit niece Angela and her husband Mick.

It's a big change coming to a relatively temperate climate after the heat and humidity of the Northern Territory. Then there's traffic, which was also in short supply in the Top End, and we don't know much about the city, but Ange and Mick are our designated drivers so, no problem. It's Spring here so, even though SA is the driest state in Oz, Adelaide is a green and pleasant land.

We need to fix a couple of deficiencies while down here, one is good wine and the other is kangaroos, and marsupials in general, as neither have been much in evidence while we were logging thousands of kilometers in the bush. The area around Adelaide is renowned for wine so, in no time, we're up in the Adelaide Hills, tasting in the McClaren Vale district. Places vary from farmhouse chic to larger destination wineries and, invariably, the settings are spectacular. Thanks to Ange driving, we don't hold back on the tasting and put in a good down payment on a hangover the next day with the party continuing back at the house where Ange and Mick's son, Glenn, joins us. Glen is a key member of the Adelaide United Army, who are the hardcore fans of the professional soccer team in town, who play in the top tier A-league. Since Abby and I are (Portland) Timbers Army wannabe members it's time for some full-on soccer geekery and we manage to impress Glenn with the TA size and tifos (coordinated displays before key matches).

Adelaide is larger than we expected and Ange gives us a a quick car tour to cover the basics, but we'll need to come back another time to check it out adequately. Next it's onto the missing marsupial problem and they take us to a wildlife park deep in the hills, via the windiest route known to mankind, and I just about manage to keep a lid on bouncing breakfast as the hangover takes hold. We're just in time for a koala encounter where you get a chance to hold one, under close supervision. The koalas are fine with it as long as they get a continuous supply of eucalyptus leaves. There are also walk through wallaby and kangaroo paddocks where you can feed them with approved munchies so Abby's kangaroo expectations are, at last, fulfilled.

Given last night's shenanigans, we pass on further wine tasting and , instead, drive to Hahndorf, a German village, still up in the hills, for lunch at the old German inn. The village is pleasant enough but would be overrun on the weekend by tourists anxious to sample schnitzel and get their fudge packed. That evening, Ange's daughter Niamh is busy completing various school projects and Glenn is back once again to consume mass quantities of pizza and shoot the breeze on Adelaide nightlife and more soccer.

Ange and Mick have been great taking care of everything for us in Adelaide but now we have to say goodbye to Murphy the German Shepherd and Harry the cat and head onto Melbourne where a large group of family are waiting for us. We'll have to get back here sometime to get to grips with the area.


Diary Photos
| | | |
| --- | --- | --- |
| Adelaide hills | Adelaide Hills winery | Winery standard poodle |
| Wine tasting in McClaren Vale | Adelaide craft brewery | Adelaide vineyards |
| Des, Ange, Abby in Adelaide | Adelaide Chinatown gate | Teeth |
| Abby and koala | Angela and koala | Lazy roo |
| Sean feeds the wallabies | Dingo | Abby and Ange in Hahndorf |
| Hahndorf | Murphy | Ange, Mick, Niamh, Glenn, Sean, Des |
| Abby, Sean, Des, Ange, Mick, Niamh | | |
---