The Meaning of Life Explained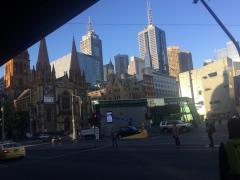 3rd Nov 2016 - 7th Nov 2016
Brothers and Sons
The next stop on the trek is Melbourne, Victoria, East of Adelaide, South Australia by about 725km.  Although Sydney is the iconic Aussie city, Melbourne has claims on being the cenr of culture, business, sport and the arts.   Over four million people live within its sprawling limits,  including a number of my extended family centered around my older brother Neil, whom I haven't seen since 1994.  It's the furthest South major city and has a cooler temperate climate, influenced by both the hot interior of Australia and the icy Antarctic, so we have to adjust our body thermostats once more.  Four seasons in one day is the Crowded House stereotype and that's just what we get.
Neil has three sons Karl, Rowan and Tristan and we're staying at Row(an)'s and Carro's (Caroline's)place in the inner suburb of North Caulfield along with their lively daughters Ella and Nora, 5 and 3 respectively.   No peace for the wicked and, babysitter in place, we're quickly off on the suburban train into the CBD for the evening.  There's no subway/metro/tube in Melbourne so trams of various vintages are everywhere.  It's highly cosmopolitan with fashion choices varying from the inspired to the laughable.  Even though the sidewalks are jammed, people are mesmerized by their smartphones resulting in frequent collisions.  First destination is Chinatown for dinner at a place where you order everything using your table's own tablet device, then a rooftop open air bar with views of the cityscape, another train hop to a trendy inner suburb and we finally end up at a bar called the Holy Grail where we're surprised when Karl shows up.  This was a little unexpected as he had just flown in from Dublin that day, what a trouper!  A good time is had by all as our virtual cash vanishes like snow off a ditch, or more precisely like a credit card  with chip being inserted into a reader.  Not to belabor the point, but some things are expensive in Australia with bars and restaurants being the most obvious such that London and New York are now looking like reasonable values.  
The next day Karl, Row and Carro have to work so Abby, Des and I head back into the CBD by train to sightsee.  We first hit up the Melbourne City Market, a permanent installation popular with both locals and tourists.  If you need a stuffed dingo, Ugg boots, bushman hat or fake Rolex this is the place and the prices can't be beat.  Singing koala in the bag, we wander round the CBD which is one big construction zone at the moment, ending up opposite Parliament House in the Imperial rooftop bar.  It's Friday afternoon, the downtown office workers are getting off for the weekend and the sun is now beating down.  We have to keep close tabs on the latter down under as the approaching Summer and the Southern latitude means high UV exposure in the skin cancer capital of the world.
On the way over to catch up with Karl and Row at the Celtic Club downtown we come across a young indigenous guy dressed in aboriginal Mad Max chic protesting the death of his folks in police custody.  He's doing it at the entrance of the local Methodist church and the people there are bemused but not amused.  He might be the only indigenous person we saw once we left the Northern Territory but he's happy to pose for a photo to spread the word.  Next, it's  cross town to another gentrified inner suburb to check out Karl ad Row's friend's bar and restaurant, Glamorama.   Vietnamese for dinner then a couple of other stops and we're done for the night.

Saturday, in addition to Karl, who's dropped off by his Mum Sharma, we're joined by brother Neill and his wife, Rowena who've driven down from the New South Wales border.  The history is fuzzy but, roughly speaking, it's been 50 years since Sean, Des and Neill have been in the same room together, as the three brothers have been split between the UK, USA and Australia for most of that time.  Reunion goes smoothly, the overseas visitors put a dinner together for everyone and a "session" starts up as Neill, Des, Rowena and Row all play guitar.

Melbourne also has wine country and on Sunday, the Yarra Valley is Hal the destination and everyone tags along, including Ella and Nora for an afternoon in the countryside.  Pinot Noir and whites are big in this more temperate climate but they also do the bigger reds.  Quality is a bit variable but it's fun kicking around the hills and country towns.
Neil's other son, Tristan, lives out in the hills in the town of Warburton, so Monday sees the brothers and nephews convoying out to see him and his Mum Geraldine.  Tristan is 24, and has Downs  - He is quite excited to see his Dad and to meet all the visitors and is a big music and food fan. Geraldine is also a musician, singer and artist so there is more impromptu music and harmonizing between Geraldine and Rowena.  This moment is certainly the first gathering of the three brothers plus all 3 of Neill's sons.  Only Brendan, Sean's son, is missing from this piece of the family, as he's currently in LA.  Maybe one day it can happen.
While we're at Geraldine's, a violent mini-storm barrels through disturbing the bees and cockatoos and soaking everything.  Afterwards, she feeds the cockatoos, who pretty much live there, and a kookaburra shows up at the bird table to see what's up.  Neil and Rowena stay overnight but the rest of us have to say our goodbyes and head back to town.  Monday evening is our last in Melbourne and Isha, Row's Mum joins us for tacos at the house.  It's been a whirlwind of reunion and farewells and I have to thank Row and Carro for having us, Karl for coming from Ireland (!), Neil and Rowena for driving down from their place, Geraldine for hosting so many of us and Sharma and Isha for also contributing to making this visit complete.  Now Abby, Des and I are off to cool and damp Tasmania for a change of scenery and pace.
Sent from my iPad
Diary Photos
---