Danglevandangle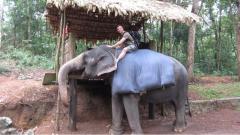 26th Nov 2014
Day 7 - Departure Day #Booo
Day 7 - Departure day #Boooo
So i woke this morning to the sounds of chirping crickets. I lay in my bed for a second, thinking.. Thats odd, dont usually get crickets by day..
Then it suddenly dawned on me, i'd overslept and the sound was actually that of the doorbell, not actual crickets.
I shot out of bed, flung a towel round me and went to the door, opening it just a crack, enough to see the smiling face of sandy who was saying "u've overslept again havent you" with laughter in his voice. Yes i had it seems.
I checked the time on my phone 09:55 ahh we're ok i thought still got 20 minutes before we need to set out, i asked sandy to wait on the porch a few minutes while i readied myself as i jumped into the shower and began my morning routine.
After id got dressed we left and hurriedly went to sandy's tuktuk.. We pulled off and drove up the road, when i suddenly shouted STOP!! Sandy pulled over and we did a u-turn..
I ran back to my hotel room, my mind thinking of the 'absolutely fabulous' scene where eddie runs back in the house shouting "tickets, money, passport"!
Id forgotten my camera, my wallet, my water, my towel (for the beach afterwards).. Everything i needed for the day, i'd taken my back-pack but it was almost empty, with just a few bits and bobs which remained permanently in my bag..
We set off once more, the time now nearer to 10:15 and it was a good 45 minute drive to training.
As we drove along the road, it dawned on me that today i would be seeing india for the last time, as this evening i would be journeying to the airport for a very early morning flight (4am effectively the next day).
So with a full day still ahead i decided i would try and make the most of the sunshine. After training of course.
We arrived at Ajiths house and i noticed the time on my phone was only 10:50 so technically i was early - good old sandy, i thought..
I had decided to take my phone today so i could try and catch up with my blogs we we zoomed along the bumpy roads towards training, as i was falling behind once again, the previous few days we had been thru the same towns and villages meaning i'd really seen everything there was to see, meaning i could blog away with a clear conscience.
After a few minutes wait, we went into his house, where we were instantly barked at by his dog who had barked at us the past 4 days now, you'd think he'd have known us by now, but of course, their dogs they keep as 'pets' are mainly for protection, not for company.
The training began, we started as we had done for the past few days by 'bowing in' which meant paying respect to the gods and asking for their protection if ever we come to use khaladi in a real fight situation.
I had to perform the first set i had learned the previous days, i remember thinking, i really shoudlve been practicing.. But when?! I've had no time to practice.. After a few attempts i managed to get it right and so i felt quite proud of myself for managing it.
We then went onto some knife defenses. Now in kung fu, for my last grading i had to do 6 knife defences. I found this really interesting as the ways we do in kung fu, almost directly translates to khaladi, only its different (again). Videos were taken to ensure i could practice when back in the uk.
Ajith was showing me a few different techniques or at least different endings to some of the existing tecniques i had learned adapting them to suit. I noticed that he was practicing today only on me, and holding me in a locked position longer than was necessary. I questioned this, saying, you enjoy causing me pain dont you.. Grinning as i said it..
He asked sandy what id said, half laughing as i think he had understood what i'd said, when sandy finished speaking ajith began laughing and nodding his head in agreement! I jokingly went to push him off the roof, after i realised that this was the case, yes, he does enjoy causing me pain!
After the training, which today was only 90 minutes, i had decided after 90 mins, id had enough, i was aching all over and not really feeling relaxed enough to train as i was mentally packing my stuff away.
We jumped back in the tuktuk and sandy asked me which beach i would like.. I thought for a second or two, and decided i might be best to go back to my own hotel room, where i can begin to pack and then relax by my own pool.
I relayed this to sandy and told him that perhaps today he should see if he can get some local fares whilst i packed away, he had agreed to take me to the airport at 1:30 so he would be back in time to take me.
Initially i was gonna get a taxi but with sandy now agreeing to take me, there was no panic or rush. I dropped my bag off at my hotel room, said bye to sandy and that i would see him later, then i went to my own pool, i say my own.. I dont own it as such.. But as i was the ONLY guest in the 'toms inn premium' all other guests belonging to the 'turtle on the beach' the pool was mine to use as i deemed necessary, however as yet i have not used this pool.
Today was the day, i pulled up a sun-lounger and after a quick (pool-side) shower and a quick dip in the pool, to wash away the sweat and discomfort i felt, i lathered myself up with sun oil, insect repellant and after a sip of water i plugged my headphones into my phone, turned on the chicane album (very chill-out) and i relaxed, soaking up the sunshine.
It wasnt long before all the oil had soaked in and a dip in the pool was required again, afterwards returning to my sunbed re-applying my lotions and potions and then relaxing once again. This happened several times.
The sun wasnt 'out' as such, it was mostly overcast, but still, thru the clouds i could feel the powerful heat of the hot sun lightly cooking my skin, like a sausage, under the grill.
I began to feel hungry, as i had missed breakfast and despite the kapaparum we bought en-route, which i seem to have become somewhat addicted to, i hadnt had anything else yet to eat.
I thought momentarily about ordering room-service but have it delivered to the pool-side. By now my skin was beginning to feel a bit prickly and i could feel if i sat out any longer i may end up burning. Clearly i didnt want this, so instead i decided, after a shower, to rid my body of the oil, i would go down for lunch and have it round by the main pool at the turtle beach.
En-route to the restaurant i visited the hotel reception, where i explained that i would be leaving around midnight for the airport, so could i pay the remainder of my bill, for all my room service etc.. And do the initial check-out, leaving only my room key to be handed in. I left the reception and headed for the restaurant for lunch.
I walked down to the catamaran restaurant where i'd been for breakfast daily (well almost daily) and the smiley lady who had served me on my very first day in india, sat me down at a pool-side table, and working around me settling down, layed the table, instantly vanished, but just as instantly returned with an ash-tray (even tho i wasnt actually smoking, she had remembered i do) and a menu.
I had already semi-decided i wanted the tiger-prawns thermidor which i had on the first day, giving a certain amount of symetry to the beginning and end of my holiday.
I was feeling a little down today, i had really grown to love this place.. And it was all thanks to sandy. I kept telling sandy that had i not met him, i may have had a completely different holiday as the pests down by the beach were, well pests, i wouldve done mostly anything to avoid, and had i not been shown all the places sandy had taken me to, i may have not actually left the hotel, much less the resort.
Sandy had already been gone for about an hour or two and i was beginning to feel lost without him, no-one to chat to during lunch.. No one to smoke all my fags.. I began to think maybe i shouldve invited him to enjoy my last day with me, but he did say he wanted to go back to the workshop as something wasnt quite right with his tuktuk but his friends would soon sort it out, he assured me. I had given him a few quid in case he needed to buy anything.
So my food came i toyed with ordering the tiger-prawn thermidor but changed my mind at the last second and ordered the steak with a bernaise sauce.. As soon as she went, i thought.. Oooh have i made the right choice, maybe i shouldve got the prawns.. Oh well decision is made now and nothing i can do now.
I sat there busy typing away on my phone, when out of the corner of my eye i noticed the tour-guide lady from the ayurvedic massage place, i cant remember whether i told you about her or not but she had basically gone there to asess whether the massage place would be good enough for her potential customers travelling to india from Denmark for a holiday.
We began chatting and i told her how id ended up spending a good hour and a half, after the steam-box therapy i had been having, to talk to him about business. Apparently i'm some kind of business guru now! Lol he was most grateful for my advice and on top of giving me the steam-box treatment, he also gave me 500ml of hand-made oils, specifically for my psoriasis, which was nice.
Anyway i mentioned to Ignita (the danish blonde) that if she should ever need a tuktuk driver, that sandy was her guy. Oooh great, she told me, i do need someone reliable and trustworthy for my clients..
Perfect i thought, that's just what sandy needs, a regular supply of customers who need more than a tuktuk driver. People who would need sandy's (un-official) "tour-guide / concierge extrordinaire" title, i had bestowed upon him!
I wrote sandy's number down for her on a pad i borrowed from the smiley lady and with that she left, telling me she had to go and pack as she was also leaving shortly tho her flight was going to dubai and left before mine, else i couldve had a lift to the airport in the transfer coach with them, to which i thought, that was incredibly kind of her to offer, although its not much in a taxi FREE is always the best price ;)
As she was leaving and we were saying good bye, my food arrived. The (thin) steak i had was alright as steaks go, more like a sandwich steak, than a dinner steak i thought, rib-eye, this was not! The veg was nice and the bernaise sauce was tasty!
I ate my lunch sitting under the hot sun, which was now intemittently breaking thru the cloud coverage for a few seconds at a time. I ordered another pepsi after id finished my lunch and i just sat in the chair soaking up the U.V rays beating down on my tender skin, which was getting more and more tender as the moments passed, as i typed away on my previous days blog.
I decided i might be better off in the shade and i noticed that although there were a few people around the pool-side there was a sunbed underneath the cabanna at the top.. That'll do i thought, collecting my belongings, and my ash-tray and i re-located.
I began to type away for a good hour or two, hours slip by when im re-living my holiday, trying to document all thats happened making sure i dont miss any important details.
Eventually 6pm came around and down went the sunshine for the day, i decided i had better go and actually do some packing, on the way back to my room i called sandy and asked him whether he had finished work, and if so, he was welcome to join me at my room where i would make him a coffee etc.. He told me he'd be about 20 minutes.
Ideal, i thought that gives me just enough time to pack my stuff away... By the way... Can someone remind me next time i go.. I dont need to take my entire wardrobe as i've only actually worn shorts and t-shirts!!!
20 minutes came and went and no sign of sandy, also not much had happened in the way of packing my suitcase, id shoved things in and rammed it down, i breifly considered re-packing the entite case, taking everything out re-folding and re-packing. As i had not used the wardrobes provided and lived out of my suitcase.. I quickly decided against this and i carried on shoving and pushing things into place.
Crickets! Ahh sandy, at last, i had begun to get worried. My case was almost done now, i was working on my toiletries, there were many. Before leaving i'd put each liquid item inside a sandwich bag before adding to my toiletry kit. I was re-using the sandwich bags to protect the liquid contents once more. I was very glad i had done this too as on the way over, virtually a brand new, "lynx" shower gel had leaked giving me a blue bag of soap to use upon arrival.
The sandwich bags containing all of the spilt liquid meaning nothing was wasted as i was just using the soap from the sandwich bag before squeezing more of the soaps substance out of the bottle.
I was eventually done, the suitcase was packed and closed, my hand-luggage was also done, and despite both bein very heavy, i was happy the job was complete, although a new worry arose, how heavy was my luggage, you may recall on the outbound flight i had 30Kgs weight allowance and therefore had to reach no more than the same 30Kgs on the return leg.
I was sure this was heavier tho, must be at least 30kgs, maybe even 40... I had a contingency plan. I had a bag which folded down inside its own pocket, a bit like those cagools you woukd have as a kid, remember those? No... Just me then! Haha
What i thought was if i were overweight, i would take all the wet items, towels shorts and t-shirts which i'd been wearing and put them into the green cagool - stlye bag, making my suitcase lighter and not impacting too much my hand luggage.
Putting it to the back of my mind for a while i began making coffee for sandy and me and we began chatting about stuff. He had been telling me during the week that he spoke english, german and a bit of japanese..
It turns out he cant speak german much at all, in fact the only thing he knows is 'wonderbar' and 'All ist klaar' (which means 'wonderful' and 'all is clear' respectively)
I decided i would try and help him with his languages (as i can speak 5 international lagnuages (fluently and backwards)) and he relied upon language to enable better communications.
I had noticed another chap at breakfast say to a german couple 'all ist klaar' to which the germans replied 'all ist klaar' as they would do normally in their language if someone asked them this!
I asked sandy what he would like to say in german and he told me a list of things which would ease his life.
Hello
How are you
Where would you like to go
How long are you staying for
Would you like a tour-guide
Please
Thank you
Goodbye
(And a personal one just for him to use appropriately)
you are a very beautiful woman.
I wrote the equivalencies in german but although i had written in german with correct spelling i quickly realised that i needed to write it phonetically, rather than gramatically, so i asked him how he would spell each word, if he were writing it, testing out the full page at regular intervals ensuring his pronunciation was more or less accurate.
I did the same for spanish, french, and with the assistance of a clever iphone app, Russian.. The app, which always comes into its own on holidays, those among you who are avid readers of my blogs will remember in Argentina i had to use to to speak to Omar, a friend i made over breakfast one day, as my vocabulary was so limited in spanish at the time (obviously im fluent now tho) lolz
We carried on talking after the language lessons, and he told me that he was really grateful for having met me, as besides all of the money i had given him (although id felt i was being tight) paid for his tuktuk to be repaired and such, one of the highlights for him was to be inside the hotel.
He told me that before meeting me he had never even so much as stepped foot in the place, not the lobby, not the reception, not the restaurant, not the pool, and certainly not the room. Aww i thought! What a shame..
Then i suddenly had a fantastic idea. When i was making my reservation all those weeks ago in england, upon noticing the flight times i had decided and elected to pay the additional cost to keep the room for one more night, so that i still had somewhere to go to rest and relax and leave my bags and maybe even have a shower.
With excitement i rang down to reception. Firstly ordered some more sachets of coffee, tea, sugar and creamer as we had ran out, well nearly, but were soon going to, and secondly to find out what time i had to officially check out of my room.
The confused receptionist told me that i would be leaving at midnight for the airport, or so he thought, i agreed that this was the case but pressed on with my enquiry, how long begore i had to evacuate my room?!
Midday tomorrow.. but isnt your flight leaving at 4am, he asked me. Yes i replied, however theres been a slight change of plan.. My friend is going to be staying in my room, and he will drop the key off before midday tomorrow.. Ahh ok, very good sir! Came the response.
I turned to sandy and said to him.. Tonight my friend, you will sleep here, in this very room.. This is now your bedroom, feel free to take a shower, watch some tv. Order some room-service and enjoy the last night of 'our' holiday in style.
He looked at me with a blank face.. He hasnt understood i thought, so i re-iterated what i had arranged, just then crickets! Signifying the arrival of the sachets of complimentary tea and coffee. I went to the door, collected all the sachets (and there were many he gave me), and dropped them onto the bed.
Sandy was still confused! I could tell the penny hadnt yet dropped. So i explained again. Tonight you will sleep here! In this bed. You will wake tomorrow, now talking very slowly, only using key words.. allowing my excitement, for him to understand, to diminish slightly. When you wake tomorrow, you will deliver the key to reception.
I can stay here? He asked... YES! I shouted, realising that the tears now building in his eyes, that the message had been understood!
He jumped up and began dancing round the room, like a kid who'd just been told he was going to disneyworld. He was whooping and laughing and crying and dancing.. It was soo nice to see! It made absolutely no difference to me, so long as he handed in the key, so it was a no-brainer really for me! In fact it was preferred, as otherwise the room would remain empty and unused.
He told me how happy he was, not that i couldnt see for myself, but he went on to explain that he no-longer lives by the tuktuk stand where we first met. He had moved from there about 6 weeks ago, making way for a younger member of his family to move in, and so for the past 6 weeks he had been to-ing and fro-ing back and forth from where he now lives 6km or so away, which means that when he wakes up tomorrow he can go straight to his tuktuk and start work, thereby affording him a long lie-in.. Something i dont think he has EVER done.
I told him that he must deliver the key in the morning and pay 80p for the internet which i had extended by one day. I gave him 100rupees to cover this.
Oh on that note, i discovered only today that the code for rupees isn't "RP" as i'd been typing but "RS" oh well!
We continued talking and every now and then i could tell, he would remember what was going to happen when i checked out after he had dropped me off at the airport, as a big sandy smile washed over his face, giggling like a child who was going to see santa.
We talked and talked and talked, he kept telling me that he felt very privelaged to have met me, and how much of a lovely week he had enjoyed, thanks to me! No! Thanks to you, i would say, explaining how my holiday wouldve been very different had i not had the privelage of meeting him..
We agreed that it was fate that had brought us together.. The gods, he said, were watching over us both! I dare say, i had to agree.
The time had come and i had to leave! With a heavy heart, i climbed for the last time, the slope, and then the steeper slope, and soon we had loaded the tuktuk with my suitcase and hand luggage and we were heading off towards the airport.
as we drove, i was saying (outlouf) bye tree, bye lampost, bye dog, bye old lady carrying stuff on her head.. Bye pavement layers, bye bricks. I have to say it was very emotional!
We arrived at the airport, sandy weaved out way thru the coaches, cars and taxis until we were adjacent to the departure doors.
Sandy helped me to get my luggage out of the tuktuk. I still had some rupees in my wallet, money i had changed to pay my room-service bill, but when i went to pay it, i decided i would pay by card, allowing me some cash to get some food and buy a few last minute bits and bobs i may need.. Fags among other things.
However since then i had decided i would make a sacrifice. I would for-go my last meal, starving myself to enable sandy to be able to eat. You dont understand that these people, the indians, have soo little and to them £1 can go very far, very far indeex, buying (at local prices) at least a few meals worth of food and water.
On approach to the airport we were talking about his headlights as they were very dim, his horn sounded very weak (a bit like Herbie, in the old movies, when he runs away) and also sandy's windscreen wipers were very very slow indeed.
Thats no good i thought, i think its his altenator. I enquired how much a new altenator was and he told me 300 ruppees (£3... £3 for an altenator i mean, come on.. You couldnt even get the box it came in for that in england)
So after he had helped me retrieve my luggage out of the tuktuk, my altruistic nature kicked in, i took all the money out of my wallet, and shoved it inside sandys top pocket. There was £27.00 i think (2700 ruppees). As i shoved it in his pocket, i said to him, you go tomorrow to the workshop and you get a new altenator! You promise! He was overjoyed again and i thought to myself im not sure how much more he can take of this!
When you get back to your room, you ring down to reception and order yourself some food, you buy an altenator, and maybe a few beers, some fags and you enjoy the last night.. You promise?!
I promise he said, we were both welling up again, as i knew this would be the last time i saw him, until maybe next time.
With that, with tears running down his face, tears of joy and sadness, he told me i was the best friend he had in the whole world and that he was going to miss me. We hugged it out and i waved him off as he drove away.
After he had gone i entered the airport, where before you can even check-in you have to clear, what i thought was passport control, quite a clever idea i thought, everyone gets checked, so if you're not travelling, thats the end of the line, however once through the check-point, you can continue chatting to your loved ones over the railings.
Then another queue for lugage scanning! Everything, suitcases, hand-luggage, belts and shoes, the lot! Again very organised i thought, the airport takes care of security leaving the airlines to focus on satisfying their customers, at each queue there was a security guard monitoring the queue and would appoint you to the next available person to complete the checks as necessary.
I joined the queue for Qatar airways, i was still rather concerned about my weight, not my weight, personally, but the weight of my luggage. I asked one of the ladies, who stood at the back of the queue, to double check everyone who enters the queue to ensure they are in the right place etc.. What would happen if my case was overweight
She explained that if i were overweight, depending by how much i would have to pay, so much per kilo, i was over, however to be on the safe side, to give me a chance to re-pack, if necessary, there were some (free) scales behind the pillar, where i could weigh everything to ensure i wasnt over-weight.
She told me she would stand in the queue in the mean time to save my place.. Ahh thats nice i thought, i might go and get a coffee too and buy a magazine and return when she was approaching the front of the queue.. Lol
I didnt do that tho, i went and weighed my case, discovered my weight was 30.10kgs and rejoined the queue, releiving the lady to return to her duty! A very good service i thought, can you imagine that happening in england... ERRRRRR NO!
Soon i was at the front of the queue handing over my passport and loading my case onto the conveyer-scales-belt. He added the necessary tags and stickers to my case and passport etc and then sent me on my way upstairs where i could go thru to passport control.
Oh! I thought that was passport control, clearly not! I joined the escelator, rode it to the top and joined the back of a rather long queue, every step of the process showing my boarding card and passport to someone, usually getting this the wrong way round,
I had over my boarding card to be told he only needs my passport, i hand over my passport to the next person, to be told they only need my boarding pass..
Eventually i was done! Thru to departures, awaiting my flight's boarding procedure by gate 1 - aaaand relax! A sigh of releif knowing all the stress of the airport was behind me and therefore i could now enjoy the airport!
I sat down on a bench like seat, and now the time was gettin on for 2:30 my eyes were very heavy and droopy and i kept nodding off, dreaming that i had missed my flight and was having to purchase new tickets.. This happend several times, i aslo dreamed i had lost my passport and so was being taken to the cells to await a replacement from the british embassy, which lets face it could be anything upto a few weeks, the person in my dream was telling me.
I woke up startled thinking id missed my flight, only to realise it was just a dream - PHEW! As we all know (or some of us at least) i do have a tendancy to miss return flights home after holidays (3 times now, once from dublin, when there was a political protest on, meaning the busses werent running, another time in Paris where we had jumped on the train going in the opposite direction, and another time when i was flying home from Ibiza and turned up a whole day later than i should've)
I decided to walk around the airport, as soon as im on that plane i can relax i told myself, until then i must be alert, stay alert.. The country needs "lerts"!! Lol (private joke)
The time came the plane was ready to board, we shuffled down the bridge after handing the wrong things to the wrong people once more (passports and boarding cards), and eventually i was on-board looking for my seat number 27F
I walked down the aisle, checking the seat numbers, 19, 20, 21.... 25, 26, oooh 27 is an emergency exit seat - BONUS! Maximum legroom! Yippee!
I stowed my luggage, took my seat and before we'd even taken off i was asleep. I mustve been really tired, the flight only took 5 minutes! I remember taking off and feeling the thrust of the plane, and the next thing i remember is touchig down at qatar!
Wow that was awesome! 5 minutes literally, it seemed! We disembarked at Qatar and ushered to the right place to meet my connecting flight to Londons Heathrow (terminal 4).
Now when i was at qatar on the outbound, the departures section i waited in was very small, morelike a train station platform than an airport lounge, no shops or eateries or anything, just chairs and departure gates..
This, however was very different, more similar to Dubai's massive airport, or amsterdam or maybe even Heathrow! Huge travellators spanned the centre of the walk ways with departure gates either side, and shops, bars, cafés dotted around with kiosks selling various novelty souvineer type items. Free wifi everywhere too ! Awesome.
Sadly i had no money, i was now really hungry, yet still probably no where near as hungry as most indians who for some 1 meal a week is as much as they get, for some, 1 meal a month, the rest of the time eating scraps that we westerners discard in bins and off the floor. It really is a different world and you cant help feeling, grateful for what you have, n'or guilty for wasting food!
But this was Qatar now, it seemed a million miles away from the poverty i'd left behind, with golden statues, and all major retailers in the airport, including an Apple shop, and a Marks & Spencer i noticed.
There were many many types of different people at this airport, white people, chinese people, indians, emirates in their white regalia with a black bit of rope round thier heads ensuring their head-dress didnt fall off, there were australians, travelling to melbourne, yanks flying to New york, there were germans going to frankfurt, french people, spanish people... You get the point, but for the last 10 days i'd seen 99% of people being indian and 1% everything else, now it seemed i was more the other way round 99% others and only 1% indians.
I found my gate i was departing from, showed both my passport and boarding card together, as i knew whichever one they didnt need they would hand back, oh you need both.. Goodie!
After about a 20 minute wait, we were boarding the plane! Omg that was quick i thought, i only left the other flight not 20 minutes before, 20 minutes to walk to the gate and then 20 minutes wait at the gate then we were boarding! What a boom!
I took my seat onboard the A330 airbus (still miffed it wasnt an A380) i was in the centre set of seats, on a 2, 4, 2 configeration.
There were 3 seats next to me still available.. Oooh might i have a row to myself i thought - No! Almost as if i'd just hex'd myself 2 australians came and sat next to me
We began chatting and they told me they were from "Landan" originally but now lived in "Melbun"! His accent changing accordingly for each country.
We chatted for a while on the flight back before i fell asleep once more. When i awoke i had about an hour before i arrived at heathrow so i began watching a film.. A film which was interupted several times by the 'PA' announcements and various other technicalities, the net effect was i didnt really see more than about 30 minutes of the movie, which was Hercules. One i'd been looking forward to watching for a while.
We landed at Heathrow and having travelled back in time, travelling east, it was now 12:25 and it was sunny! Wow, that was a nice surprise i wasnt expecting sunshine!
I wont bore you with the rest of the airport procedure but what i will say is this, after i had collected my suitcase, which came almost as soon as i arrived at the conveyer belt, as if waiting for me to arrive before popping out, i left the airport.
I walked accross the road outside the airport, and directly into the valet parking stand where i hadned in my receipt for my car parking, i was handed my key, and with that i walked to my car, probaby less than 20 paces, i loaded my suitcase into my car, shoved my hand luggage on the passenger seat and with that i left the airport.
10 minutes later and i was on the M40 heading back to brum. I have to say i was feeling glad to be home, airports can take it out of you, but what an amaazing hoiday i had enjoyed!
The sun shone most of the way home, as if affording me one last look at the sun, before arriving back to a very gloomy Birmingham.
In conclusion, I ABSOLUTELY LOVE, India! Stunning place, warmest friendliest people your probably likely to meet, cheap as a cheese sandwich and beautiful scenery.
So, Would i go back to India ?? Yes Of course, in fact, I've already booked my next ticket ;-) yippeee !
Keep yer eyes peeled for my next blogs......
Diary Photos
26th Nov 2014 Elephant riding
No Description
---