Australia 2015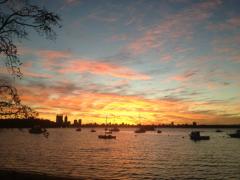 27th Jun 2016 - Australia
Running!!!
Perth
No Travelling
This morning I finished my running in Australia by running down to the Swan River at 06:30 and along the north bank as the sun rose above the city skyline. It was a beautiful sight.
As I have done quite a lot of running on this trip I thought I would put down my statistics:
Time in Australia: 239 Days
Days Ran: 237 Days
N0 of Consecutive Days Run: 215 Days
Total Distance Run: 1,952.08 Miles
Average Daily Distance: 8.24 Miles
The two days I didn't run was the first one when we got here due to jet lag and the second was when we got back to Adelaide and Wendy had booked us into a different campsite to the one we intended to be at and by the time the muddle was sorted out, and it was a muddle, it was too late to go.
However I have had some great times being out and about and I have seen some fantastic sights. I have been around every State Capital City in all the nooks and crannies. The smaller towns which often have hidden surprises. The baking heat of the outback, alone and at least 4 miles from anybody else, the tropical rain forests and the humidity of the far north.
I have ran on some brilliant beaches and down some interesting country tracks. The wildlife I have seen as been spectacular. Wallabies, Kangaroos, Snakes, Emus amongst many other tropical birds and my best one, a dingo.
I always take just over half a litre of water with me and emergency money in case I run out of drink. I have had to use the money on 3 occasions, twice in Darwin and once in Broken Hill when the temperature was 43OC. I have never know thirst like it, the absolute dryness in your throat when you would almost kill for a drink of water.
In the warmer areas I would freeze my water overnight and within 15 minutes it would have thawed out in the heat.
It's been great exercise but the absolute best of all is that the sciatica I had in my left leg as completely gone. I don't know if it's the heat or what but I am certainly pain free and long may it last.
Some of my favourite runs were, the beach path in Adelaide, the sunrises, especially the one at White Cliffs, the circuit at Manly, the Water Course in Clement, the beaches at Broome and Port Douglas but my absolute best was the City of Brisbane with its river side paths and boardwalks.
It's been a lovey way to see the other side of a great country!
Diary Photos
---