Australia 2015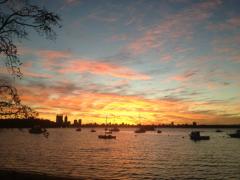 27th Jun 2016 - Australia
Back to Blighty!
Perth to London
7,813 Nautical Miles
I was out of bed and away by 06:30 this morning for the last run of our trip and what a fitting and proper one to finish with too. I saw a beautiful sunrise over the city skyline and it was great to be out and about.
I got back in good time to rest, shower and have a bite to eat with Wendy, in fact I think I did a Personal Best for ten miles, completing it in 01:25:07.
We finished the packing or rather Wendy did and we had one very heavy bag at 31Kgs and three other not as heavy, but heavy enough ones to boot, it must be all the shells Wendy's collected!
My body board is too big to go in a bag so it's strapped with Duct Tape to the bottom of my big blue sports bag. But as we attached the board to the bag I didn't think we had enough tape for it to be safely secured so after checking out of our hotel with the bags safely in the car we took a walk down to Subiaco to buy some more.
Along the route we took breakfast outside a small café. We both had, to prepare us fully for Blighty, Bacon and Egg in an English Muffin. The sun was out and so were we, however, as the waiter said, we were the only two mad enough to be outside. But why not it was a lovely warmish spring day to us.
The Muffins were stonking, nice and hot with real crispy bacon, and stinking hot coffee to boot!
Our plight for the Duct Tape started without luck in Coles Supermarket, we then went on to scour every likely looking Duct Tape stockist in the district, but could we find any, could we bugger!
We walked every street, and went in every shop, I even convinced myself that surely a chemist would have some, but alas no such luck.
As we had to get back to the car to make our way to the airport I thought I'd call in a garage or two along the way but then we hit lucky. Just as we neared the car Wendy pointed out a newsagent and so we went in.
I thought Wendy was going to wet herself with excitement as she let out an overjoyed woop when she happened upon a roll of the very stuff. 40 metres long too, that should do the job.
We told the shopkeeper about our plight and that Wendy had tried to persuade me to buy plain wrapping tape, but he agreed with me, when you need a good job you need the best tape!
We got to the airport and dropped the car off without incident and had a leisurely hours wait for our check in to open. I took this opportunity to finish the last tinny of XXXX Gold that I had, I had saved it for just such a treat.
I tried to reclaim the tax on my camera as I got through into the departure lounge but boy did the tax people make it dammed hard to do. I was thinking of knocking it on the head but then I thought that's what they want me to do. So having completed paperwork in triplicate, attached the necessary receipts, addressed an envelope to myself, placed it all in the collection bin I have to live in hope that it will get processed. Oh and I had to go back and forth through security 3 times as it's tucked away somewhere deep in no-mans land!
After all that Wendy parked me with the bags and a bottle of wine in a bar whilst she went shopping whereby I got chatting to a very nice young man from New Zealand who works in gold exploration in Australia and occasionally goes back home to see his folks.
He was asking me about Brexit, and was laughing at us actually. He told me that he had saved money and bought some shares, whose value had plummeted since last Friday. He said as a way of a joke, "See what you bastards have done!" He might have the last laugh too because he said he bought shares in the same company again today as they are now at rock bottom and can now only go up. I do hope he's right!
Our flight to Singapore was good, the food was really nice but they were not forthcoming with as much wine as you know who would have liked.
Singapore airport though was almost farcical with stupid security, take this one example.
Wendy likes to take water on board but we didn't have any local cash to buy it. But that's OK there was a botte filling station just before some additional security screening so I filled my running bottle for her. I put it in my jacket and put it through the X-Ray.
Well at the other end the water became the big issue. It needs emptying I was told. But you've just seen me fill it I say. The man then says, that's OK there is a filing station just there and he pointed it out. Empty it there and refill it.
So I says, in sheer disbelief. You have a water bottle station just before I come through here and then you want me to go over there, empty it and refill it, where is the sense in that. A security lady then intervened and poured my water in a rubbish bin, and gave me the empty bottle back, well I never.
It was actually more comical than it sounds but it's hard to detail such stupidity, I mean we were already in the main departure lounge having arrived from transit!
The second flight was good too, if not a little long at 13 hours. The main meal was not so good, but we got a sufficient amount of wine for someone to be happy.
We didn't get much rest on the flight, I watched a few films, jeepers hasn't inflight entertainment changed in 30 years. They used to pull a screen down on the bulkhead wall and project a single film and if you didn't like it it was tuff-tit. Nowadays you have your own screen with 100's of films to choose from and many, many more TV programs not to mention games. Time flies by when you're being entertained at 40,000 feet.
Granny and Grandad were there to collect us safe and sound at Heathrow and now we are back in Blighty spending a few days with Granny, before weekending in London where it will be back to Inverness on Monday. Ha, but it's not stopping there avid reader, we have an appointment in Aberdeen in Mid-July and then we will hit the road with the Caravan and try to make something of the last of the British summer, I don't hold out much hope mind.
I knew I was back home, England's been knocked out of the European Football Championship and its only 13OC back in Blighty, some things never change.
Just to round up on the stats of our trip, we:
Covered 20,249 miles over land of which 2,704 were on the India - Pacific Train.
Visited and stayed over at 96 different cities, towns and townships.
Met an awful lot of very nice, decent Australian people and some British ones two and I would like to thank, in descending order the following people:
Darren and Kim for supper in Melbourne, (Darren for his directions too)
All of the staff at Dalmeny Camp Ground for such a memorable Christmas
Kate and Bob for the magical experience that is Urliup Farm
Rachel for being the kindest hostess you could ever want to have
David Hudson for cooking some mighty fine steaks
Heather and Warren for their fantastic hospitality, (but Warren lost some brownie points due to shredding our nerves for a while)
Matt, Alison, Ruby and Abbie and for the girls taking me to the zoo which was a truly wonderful day
Phil for taking us out in his boat
Dave and Diane Ashworth for not only the lovely stay at their palace, but the meals cooked by them both and to Dave for helping make our dream of going to the Cape come true
Janine for taking us out for such a lovely treat supper
Paula and Pete for such a lovely afternoon of homemade pizza and a great catch up
To all of the people who we have met along the way, some of whom have helped us and some we have spent time chatting with. It's been a great learning experience and I have to admit the journey of a lifetime.
If I had to pick any single day out as being special I would have to consider:
The trip up and down the Stuart Highway, Uluru, Kakadu National Park, The first ever Day/Night Cricket Test Match, the Great Ocean Road, Christmas at Dalmeny, New Year at Sydney Opera House, Broken Hill, White Cliffs, Urliup Farm, Brisbane, Port Douglas and all of the fantastic beaches we have encountered, Sunset at Karumba, the boat trip with Phil, our Cape York Expedition, returning to Old Laura Homestead, the Mulgrave River and Lizard Island, The Great Barrier Reef, The Indian - Pacific Train Journey, the trip to Broome, all of the fantastic wildlife we have seen and all of the great food we have eaten.
It's all been fantastic, (I might have already said), but if I had to pick one magical day it would be the day two little girls who took me out for the day to the zoo, it was a wonderful day. I daren't say it was the best day of my life, but I am safe to say it's certainly top 4!!!
Finally a very big thank you too to all my avid readers, I hope that you've enjoyed our travels, it's been a pleasure to document them and I sincerely apologise for any grammatical errors and the over use of the word, "DELIGHT"!
(I have one more copy to post and I will do it tomorrow, which will be to list my observations of integration within Australia, as previously promised).
Diary Photos
---