Australia 2015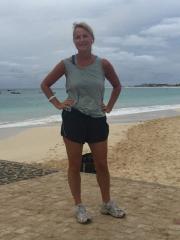 27th Nov 2016 - Cape Verdi - 2016
Yet More Rain!!!
Beach?

This morning I was up at 05:30 and had to nip out and get some of my running stuff from the balcony and through the darkness I could see someone had been out already and bagged two sun beds right in front of our balcony. And then I saw others skulking around laying towels down. One man was even carrying beds under his arm and arranging an entire gang of them all together. By the time I was ready the sky was lighter and I could see snaffled sun beds everywhere.

Wendy feeling brave came with me running this morning. She dipped out at the 2.5 mile mark and waited until I got back to her for a couple more miles. We had a rest at the pier to take a drink of water, of course I had to share my meagre rations because Wendy hadn't thought to bring any.

On our travels we had passed the night club at 06:45 and the revellers were going over to the corner café to carry the night on. There wasn't a hint of drunkenness and there was yet another nice atmosphere, as there was last week.

However down at the pier there were four drunk girls and two of them started fighting, I mean proper rolling around stuff, well I have never seen the like. Thankfully a young local fella dragged them apart and they dusted themselves down. That was enough for Wendy, she was away and didn't carry on with the run, well she did but she headed back to the hotel, not because of the girls fighting but by the time she had got back she would have done about 6 miles, I'm very proud of her.

The sun didn't come out but we went to the beach after breakfast and thought it might get better, it didn't. Thankfully I took my sweatshirt down but had to hand it over to Mrs Gill as she was feeling the chill, now I am meaning the 250C chill here by the way. I did nip back to our room for a cuppa and in the meantime it did rain heavily but only for ten minutes mind.
As we got chillier and chillier we went to the bar for cocktail of the day, which I liked but Wendy didn't as it had a hint of aniseed.

We and a really nice lunch and went back to the beach to read our books but by 15:00, with some more drizzle we went back to our room. I went for a run and to check out restaurants for tonight as we were going down town.

I had a pleasant run but it was still a bit chilly with a biting wind.
I haven't seen Fred West today, I do hope he isn't upto his mischief again!

We went into town for supper, first we met our neighbours, Martin and Dawn in a bar and then we went to an outside restaurant we had picked out earlier, but because it had been raining they had closed. So lost for somewhere to eat we hit the back streets and we came across a belter.

We found a traditional Cape Verde restaurant that did a good variety of food. I had the mixed fish with a nice salad and Wendy had the very fancy fish, both were lovely. We shared a 50cc carafe of wine and to finish I had a rum and coke. All in all it came to £35 in their funny money and it was a most pleasant evening.

We even came across a most delightful local baby boy who was out with his Mum and Dad. Wendy wanted to snaffle him up but didn't get the chance.

A taxi ride later and we were back at the hotel having a glass of wine and pinching pudding treats from the restaurant then we headed for a late night, 21:30, chill on the balcony before bed.

No book tonight as I have finished mine today, Linda La Plante, what a novelist, top drawer.

I have though a new novel which I might just save for when I am at home for a cold December day. It's the new Jack Reacher book as left at my room door by the chap I met yesterday.

The kindness of strangers never lets me down!!!

Oh and he's saved me about £17.00!!!

Diary Photos
---