Australia 2015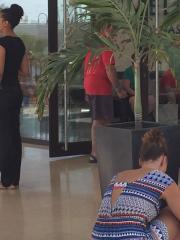 29th Nov 2016 - Cape Verdi - 2016
Wall to Wall Sunshine!!!
Last Day

We saw Fred West and his entourage of riff-raff at breakfast this morning and he has some real fatties with him and boy did they fill their plates, over flowing they were. We had to be careful sneaking glances might have got us caught and in real trouble.

We went back to our rom had a cuppa and then prepared for our day out on the beach in downtown Santa Maria as our last day treat. The trouble though was we had to go via the Deli Express so we had to make sure we got a seat.

Waiting for the bus and guess who turns up in reception, Fred West. So I double dared myself and tried to get a photo as proof of his existence. I got one but its only profile, but I think you can make him out though.

We were first in the queue for the bus but I still had to make sure I asserted myself so that I got first tabs on the back seat where the most room is. The bus quickly filled and again the fold out seats were employed trapping us at the back.

The sun was well and truly out and we could not get any sun beds with a sunshade so Wendy had to scramble against a small wall so that she could keep her head out of the sun. I ate my sarnie and boiled egg by 11:00 and started on the wine we had snaffled at breakfast, (filled water bottles from the wine tap).

When the sun got unbearable we went of a drink in the sports bar and did a bit of internet surfing.

Back at the beach and the sun was relentless so I cooled off by taking regular dips.
Finally by 16:00 it was cooling off so I went for an evening run as I had taken my trainers down with me as I wanted to run to an abandoned beach where there used to be a bar and a few old shops.

I got back in time to see a lovely sunset and by 18:30 it was pitch black and a perfect day was over, as far as the sun was concerned.

We had one more drink at the sports bar so I could top up my travel money card online and then we went to the same restaurant we went to on Monday night, big mistake.

It went downhill immediately as the girl who took our order could not speak any English so it through her straight away when I asked for the fish stew as a starter to share. We then tried to order fillet steak with just a salad x 2 which we just about managed and then had to get the English speaking male waiter to make sure they came rare. The first dish to arrive was someone else's which we tried our best not to accept even though she was most insistent they were ours. I should have got up and gone there and then, but we persevered.
The fish stew I must say was delightful all fishy and stewy at the same time and when I eventually got a bit of bread I manged to clean out the bowl.

The main course came and although the salad was fine, both steaks looked like a bit of scrag-end. There was no need in them being rare, they were so thin the only way they could have been rare was for them to have come raw.

The sauce was nice enough though.

Anyway Wendy gave him pelters and I joined in when we had finished. Apparently we should have asked for filet mignon if we wanted something like a proper steak.

And so we were off, I was set for a drink in a local bar but was informed I had to go home because I was grumpy, I didn't think I was but we were all tucked up in bed at 21:00 anyway, which probably wasn't a bad thing.

Diary Photos
---