Australia 2015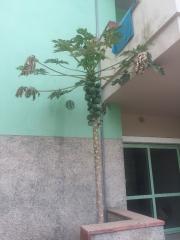 2nd Mar 2017 - Cape Verdi - 2017
Thursday
Winding Down!
Strangely the carnival finished about 11:00 ish so we weren't disturbed through the night, it was quite hot though despite having the windows open.
I was sat at the 5 mile point of my run where I have my first drink, I was sat behind a souvenir shed out of the wind but in full view, just outside our apartment and I was watching for Wendy to pass as I wanted to tell her something.
It was very cloudy first thing and we were going to the beach but as it might not clear we were unsure, so I left Wendy to decide whether to go or not, this is known as a decision which is something Wendy dislikes. So I was going to tell her to abort the mission due to continued cloud cover.
But despite me waving and screaming at her she just sailed by with that thank god I've made it back alive look on her face, by the time I had got moving she'd ran herself through security and was nowhere to be seen.
So I carried on for another 4 miles and left her to try to decide.
I got back later and she was on the balcony. I asked from below how she had come to decide to stay? I haven't, she replied, I'm waiting to see what you think? Decisions, decisions Wend!!!
So we decided to stay at the pool.
First I needed to get some money changed as a good little fairy had made a deposit into my bank account with instructions to get Presseco for Wend, that was the actual bank mandate! So we trotted down to the Sal Beach Bar where I cashed in the required amount and took Wendy to the shop to get a bottle which we will take to the beach tomorrow, our last day!
She is a very happy bunny that someone thought about her, me too as I get to share.
We also bought four packs of snack bags!!!
Back at the apartment we had a bite to eat and then lounged by the pool. The clouds have gone and boy is it hot, well apparently it's spring now!
At 14:30, to take a time out from the sun we walked to the bar across from the Pirata Bar, remember our none lunch there yesterday?
Well buger me it was chaos!
3 girls behind the bar were arguing who's turn it was to fill a vinegar bottle. There was a meal on the bar waiting until they could find it's owner who had secretly changed tables. I can't describe the carfuffel that that caused but when he was tracked down, I think he had gone around the corner of the bar for some privacy, or to get away from their madness, and who can blame him?
The waitress actually tried to get him back to his original table by placing his meal there and pulling a chair out for him. Now thankfully I don't speak Portuguese but I think this is what he said, and I quote, "Bring my ffening meal here you silly moo"! With a little added pointing and gesticulating.
But he had a fair point as it is utter madness. The girls were still at it about the vinegar bottle, then it was snatched away by one in a huff and I was left with a barmaid who then did every minor bar duty that didn't need doing before she happened to realise she should serve a paying customer. I was on the brink of leaving but, perversely I wanted to play the scene out.
You know I think I have clicked what it's all about, you see I am a sodding nuisance, who has the cheek to interrupt their day by requesting service in return for money! How inconsiderate of me!
We eventually got a drink and I briefed Wendy on the goings on whereby we observed further antics from afar.
Back to the pool where it was still hot but at least now the breeze was stronger.
It was so hot Wendy disappeared inside to make tonight's supper, fish curry. I bet it will be yummy as it's our last apartment meal, it's Euro Bar Friday night tomorrow, no expense spared.
It clouded over just after five so we went for a stroll along the beach to town.
Jeepers the waves were pounding and had breached over the top of the beach and flooded an area we haven't seen wet before.
We had to paddle through it and you would think with the performance Wendy put up that she was on a Royal Marine Assault Course, jeepers there was some moaning!!!
On the pier a local fish women was counting her money and dropped a note through the crack in the timber into the madly swirly tide, I wasn't going in for it nor was she or her muckers, no, some very loud screeching resulted and then with all the excitement she had to relive herself in the rocks in full view of me and with her big fat bottom in my face!
We found a beach bar that's not been open while we have been here. Well bar is a bit of an exaggeration, it's actually a Stone Age caravan with some scabby decking.
So we had a glass of white wine, it cost a Euro for two glasses, it was shit! I'm sorry I cannot find any other word to describe it other than that. You could not sip it without a grimace or a loud gruffel, you know where you make a sound that's gruffelly when you drink it. Honestly it really was shit!!!
Then we went to the pier bar for a carafe of house white, and guess what???
It was 52 times worse, so worse I didn't finish my glass let alone attack the carafe. It was shocking and Wendy agreed. I cannot use another profanity as it would be offensive to Granny. But Wendy summed it up when she said, and I'm quoting again! "It looks like p**s and tastes like p**s. so despite Wendy asking me not to make yet another scene I took it back and went to pay the bill. Sylvia asked me if we did not like the wine and I happened to say it was undrinkable, she agreed with me, she said I know it is bad so it's free. Wendy did a handstand!
We then found a wee place tucked out of the way, new, only open five days and we had a half litre of lovely wine and some fish Carpaccio to start our evening off, it was lovely and we are booked in for breakfast tomorrow as well, it's my last day so I am hitting it hard!
Supper on the balcony was lovely if not a bit too salty from the stick pot we had.
We tried a walk but Wendy was bushed so she went back a 100 metres into the walk. I did a tour of the town and headed back for a wee balcony snorter!
Diary Photos
---