Australia 2015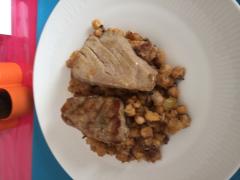 3rd Mar 2017 - Cape Verdi - 2017
Last Day
But There's Still Saturday!!!
Boy was it windy during the night, it was almost hurricane status. I was up with it at 05:45, the wind, and the new family's baby downstairs who must have a bad dose of colic as s/he screened the apartment block down for about 40 minutes.
Too keep out of the wind as much as I could I ran up and down the Green Mile. That way you have about a third of the way protected from the wind. I bumped into Wendy a couple of times struggling with it.
When I got back the washing machine was on and the first case was already packed.
As soon as the washing was done we went to the beach and we were the first there. We even caught the attendant off guard as we wanted to pay him so we could get my much sought out Cape Verde breakfast.
We went back to the little place we found last night and had Tuna Cachupa, which is a meal based around chickpeas in a thick sauce. I loved it, there were heaps too and the Tuna was beautiful. Wendy had the same but had to leave some as she was full, I wolfed it down.
We swilled it down with a fruit smoothie and then went to let it wallow in our tums as we layed out in the morning sun.
I had to take a wee stroll to walk off my breakie and I also called in at the pier. I got a good shot of the lady who lost her money and then took a pee. You'll find her in the photo section, I wouldn't want to mess with her!
The surf was wild but as it was my last chance of a snorkel I donned my gear and after carefully watched the breakers, seizing my chance, I hopped into an outgoing swell and I must have been pulled into deep water at 20 knots such was the affect of the wind on the tidal surge.
I had a 20 minute potter but couldn't see much as the surf churned up the sand. Then I had to escape the large breaking waves. To do this I finned in on the wave then held off as it broke and then went for the next one, each time just rolling back off the crest of the wave. Finally I was on the last one and I rode it all the way in, right up until my tum was stuck in the sand, it was brilliant. Why are there some things that you do that make you feel like your still 10 years old?
I finished my book and then we cracked open the prosecco which was a delight.
I had a snooze to catch up from the baby blues and then took on an air of last day decadence and bought a bottle of vodka, with a can of mango juice for me and coke for Wendy. Then we tucked into a bag of snacks and soaked up the sun and the vodka too, responsibly mind!
As the afternoon wore on the clouds gathered and that with the breeze did for Wendy who did those wrapping herself up noises that are intended to get your attention, meaning it was time to leave. Therefore at 16:30 time was called and we trundled up from the beach back to the apartment where I put on my Team GB running vest and went for a nice five mile run while Wendy did a bit more packing and showering.
Oh I neglected to say that yesterday, on the advice of my Stock Broker, Mr Bradley Shackleton Gill Esq I purchased an undisclosed amount of shares on a newly floated company, Snap Chat!!! My Broker has advised that an acceptable amount of accumulation is taking place and we have a set a very acceptable sell %, why do I think this is all going to go wrong.
I should never have gambled Robyn's wedding funds!!!
Supper was taken at the Euro Bar for our final time and it was lovely. We shared a Fish Carpaccio and it was double lovely. Wendy then had a Mexican Enchilada while I had a spicy Sharamma which was a bit nippy on my lips, but delightful none the less.
We then said goodbye to all our friends at the bar which was very nice because the owner was gutted to have lost two loyal regulars! We then walked up to Valeria's for a glass of wine and a fig type pastry which Wendy loved.
Bedtime is approaching but not after I get that bottle of vodka to the half way mark!!

Diary Photos
---