Australia 2015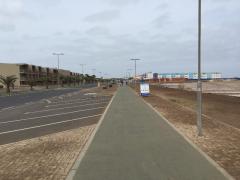 4th Mar 2017 - Cape Verdi - 2017
28 Days
The Final Count
33 runs
270 miles
And I won't be sorry to see the back of that bloody Trade Wind. I will never complain about the Aberdeen seafront breeze ever again, promise!
It was just as wild today as yesterday and with a bit of cloud cover too.
I was up at 05:45 again and out running well before 07:00 making Wendy a cuppa as I left.
I saw her just finishing her run and she was about 200 metres in front of me so I sprinted wildly and caught her up. As she was listening to music I knew she couldn't hear me so I gave her bum a good slap as I passed her, she nearly had an "Accident".
She did though brag about getting a fist pump from a lad on his bike.
I had a quick swim in the freezing pool before breakfast where we finished all the food we had left. I had egg, cheese slices, tomato, green pepper and garlic mayonnaise, all tucked in a nice fresh bread roll. It was quite nice, really.
We then set about cleaning the apartment, top to bottom.
I started on the balcony and I gave it a right old fettle. You see sand gets deposited all over as it's carried on the winds from the Sahara Desert. Cars parked for long periods of time are caked in it. We have kept it clean but it needed a very deep clean which it got. Wendy set about the bedrooms.
When we got to the part where we could do no more as we were still using the place I went into town while Wendy finished the packing.
It was a nice walk but very breezy still.
When I got back Wendy had done most of the packing. We had a cup of tea and went in search of little girl T shirts for our friend Dave Ashworth's Granddaughters. However it was all in vain again as no one had any small enough.
After the 83rd shop we gave in, well we were more tempted by the smell of cooked food so we went to the Sal Beach Bar for a sharer plate, which for us to be soon on a crowded jet plane contained far too much garlic.
We got back to the apartment but by 14:00 we had done all we could and had an hour to kill so we took the long way round walk to the Euro Bar in the hope we might get a famous chocolate biscuit. We went via the water filling station where people without connected water have to queue each morning to fill any number of plastic containers, the poor buggers.
Blinking eck our luck was in as they had some biscuits just fresh out of the oven at the Euro Bar. We got one to go, for when Wendy gets into her hotel room in Barnsley at 04:30 on Sunday morning.
After finally finishing up at the flat and leaving it immaculate we boarded our waiting taxi for the airport.
Thankfully we had beat all the resort busses and we were checked in reasonably quickly, well by Cape Verde standards we were.
We were at the airport for just under 3 hours where I tried to run down the remaining data on my phone. I listened to Heart Fm, then onto BBC Radio 2. I read every piece of news on both Sky and the BBC news apps and surfed myself to death. I was still listening to Radio 2 when they started to do the safety demonstration on the plane. Jeepers I got some use out of it, I wonder how much is left.
Just before departure we were sprayed with fly spray, does it really work???
Bar service was terrible, we were in the forth front row and Wendy got the last bottle of white wine, I wanted two small beers but they only had one, I handed it back as I wanted to sip one now and have my meal with other.
My meal on the other hand was a real treat. I was starving by the time we got it as it had been delayed by severe turbulence over the Canary Islands, you know the type where the Cabin Crew have to strap themselves in! Wendy was apoplectic with fear and was heard to scream the odd, "Oh God" at the top of her voice.
Anyway I had a chicken tikka curry and Wendy had braised beef, all lovingly prepared by James Martin no less, I could have eaten three of them.
We jostled along with the turbulence more or less all the way back to Blighty and Wendy thanked her lucky stars when the plane came to rest at the airport.
We got to our hotel at exactly 04:00, we may have been ten minutes earlier had Sat Nav not took us on the wrong road, but at least we are tucked up in bed now snaffling a bit of good old Cape Verde biscuit.
Night, night Avid Reader, this adventure is over, who knows what's around the corner!!
Diary Photos
---