Australia 2015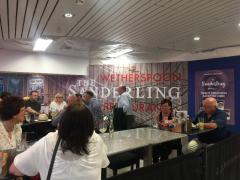 22nd May 2017 - Grand Canaria - 2017
Daft Question
Airport Madness
The drive down the A9 on Sunday afternoon wasn't as bad as we expected and we arrived at our hotel for about 8pm. This is the first time I have booked airport parking at a hotel and it seems to be the thing to do. The hotel was nice and clean and our room first rate, although Wendy thought it noisy during the night. I never heard a peep and didn't budge until my alarm went off at 07:00.

One downside, the Union Flag was upside down, again!!!

I ran along the Clyde and it was a lovely treat, it was very mild although overcast and it did spittle a wee bit but it didn't stop my fun.

I like Glasgow, although technically we were in Renfrew. The Clyde is a big, proud looking river and the local authority as made the most of it by providing a very study footpath along the stretch I managed to run along.

Our bus ride to the airport was a synch and the driver we had had a very commendably and professional attitude which I liked a lot.

I heard the most stupid question at check in, we had two suitcases and the young lady asked me which case was Wendy's and which one was David's!!! I could not answer her, it was such a stupid question as we have been married almost 30 years and stuff just goes in a case. Wendy sensing my incredulity quickly piped up, "That one's David's and that ones Wendy's" Happy now our cases were whisked away into the unknown.

I met the most obnoxious man at the security point who spoke absolutely rudely and disrespectfully to an older lady, I kept my mouth shut as it wasn't going to end nicely, most likely with me in a cell. I spoke to the lady afterwards and she was lovely, she said he was frightfully rude but she was just a bit confused as each airport seems to operate differently. I'm going to report the bugger tomorrow!!!

We then had a drink in Weatherspoons and shared a lovely classic burger, which was delightful.

The flight was fine. No problems apart from the cost of a small bottle of wine, at 6 euros a shot it was too much for even Wendy. I asked the attendant was the price so high to discourage heavy drinking but she said it's always been that price, it hasn't you used to get two for £6.00, so there.

Our transport to the apartment was a 16 seater minibus, for just the two of us, which did seem a little excessive!

The apartment is small, but very clean and in a very nice, quiet resort. Wendy unpacked and I went to the shop for essential supplies, wine, Honey Rum and beer, oh and some food stuff too.

We went for a walk and found that the walkway to Amadores beach has been closed as they are making a new resort in the shantytown area. It's caused severe disruption and they have built a huge stonewall as some kind of sea defence which is totally unnecessary. It spoils the views for local shantytown residents, but most importantly two restaurants which we like to use.

The entire area has been fenced off!!!

We came across the bar owner and he was very miffed as this fence stops his through traffic of walkers going to the beach. He was so incensed by the "Mafia" that he took a pair of snips and opened a hole for us, he then took us across this new beach and snipped two more hoes in the other side so we could walk through, boy was he not happy.

I told him I would be in for food at some point, well I had to didn't I? Wendy had visions of blue flashing lights and being kicked out of the country but we were ok.

We came back along the road!

We are just unwinding on our very nice balcony with a chilled glass of wine before heading for a good night's kip, with the very nice French windows fully open!!!

Night, Night Avid Reader, it's nice to be back!

Diary Photos
---