Australia 2015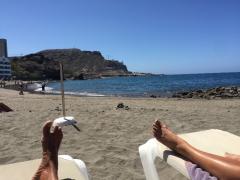 3rd Jun 2017 - Grand Canaria - 2017
Sunny Saturday
Beach Day
Jeepers yet another cloudless day and it's been stinking hot all day.
We both left at the same time this morning, just as the sun came over the hill. I passed Wendy on the rocks and then she passed me at Amadoras Beach, with her on the top deck and me at the bottom. She manages to catch me and then nip in front as I go around the Beach Club and then onto the deck chair point where the pedalows are located, I didn't even see her sneak over the path to Puerto Rico but we managed a high five together as she came back. I'll have to say she's looking pretty fit these days, for an old bird.

I got back to the rocks having done 9 miles and stripped off for a good long dip in the sea. It was bloody lovely, the tide was high and I didn't have to go far on the sandy bottom to get chest high in the water. I have to admit to taking my shorts and pants off so I could have a nudey soak in the clear water, it was so refreshing.

It's not easy trying to put your shorts in on with one hand underwater mind.

Don't worry no one was the wiser, I was most discreet!
I got back to the block and did my usual trick of going to 6G instead of 6H, I was just going to knock the door when it opened and a big fat man came out. Thankfully I knew my mistake and kept climbing the steps to the top pool then I walked to our steps and walked down to our block which made it six flights of unnecessary steps!

After breakfast we went and had a full day at the beach. It was lovely, Wendy had made egg mayonnaise sarnies which we wolfed within 20 minutes of being there.

We had a few walks along the surf, burning our feet on the hot side each time.

We were quite amused with some kind of fitness man and his routines. We couldn't work out if he was serious or silly, I think silly. There were also a trio of walkers who also provided some merriment with their antics.

We left the beach at 17:00 as both Wendy and I had had enough sun for the day. I went for a 6 mile run to keep my monthly challenge average up which now stands at 13.61 miles per day which I need to keep up if I'm going to make 300 miles in June.

Supper is out tonight and we are off in style, taxi to Amadoras Beach and back. Wendy is looking lovely and so am I so ill be back later with an update!

Things don't always go as planned do they!!!

We saw a waiting taxi at the rank and nipped to the cash point for a Euro top up but as we approached the rank he got a call and off he took with a hand signal saying five minutes, fifteen minutes of waiting later we developed Plan B, which was quick style tapas from the Spar. All home made knock up, and with a six pack of San Miguel it all came to the princely sum of 13 Euros.

So now I have an abundance of Euros from the cash point. Never mind there is always duty free shopping.

We took our supper on the balcony and it was lovely and as we did we could hear occasional cheers from all the local bars, I'm guessing Real Madrid are winning tonight.

Actually they must have won there are bangers going off all around us.
Diary Photos
---