Australia 2015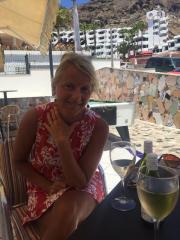 4th Jun 2017 - Grand Canaria - 2017
Last Day
Again!!!

Well it's here again, our last day and it's been a beaut as they say in Australia!

The sun was out first thing and it was a hot run, Wendy was late up but beat me back. I have managed to up my rate to 50 miles in four days but that will dip in the next few days as I have things to do back in Blighty.

We went to bed last night as everyone else did with the terrible news that yet again people going about their own business have been subjected to the actions of monsters. I don't wish to associate myself too much with Donald J Trump but I have to agree with him that these buggers are losers.

I did another naughty today and swam in the sea nudey, it was bloody lovely.

Back at the apartment I did some surgery on my wound, I dug out the puss and the dead skin, I didn't tell Wendy as she is such a fuss. It's still looking a bit swollen but I think it is on the mend now as its getting smaller in size. I might actually swim properly tomorrow and use both hands in the water.

We spent an unashamed morning on the balcony taking in the last of the sun. It got a wee bit cloudy but I did appreciate it as I had had a bit too much sun on the beach yesterday.

A boiled egg sarnie, with onions was our treat before our last shop at the Spar which included our duty free rations of Honey Run.

On the way back we stopped by at the Irish bar for a glass of wine but we couldn't settle as it's a bit of a family bar, you know the type where kids are set loose and are allowed to please themselves. Funny the term family bar doesn't extend to good family relations, like it's just jack up, let your kids go and bugger everyone else.

Oh, whilst we were sat at our table we did an extra chuckle about an unaccounted event last night. As we approached the cash machine we saw an elderly couple taking photos of a cat on the wall. It was in a kind of broken Ali Ba Ba vase. I must admit it was cute, but as we passed comment with the couple, one of them, in conversation did a monumental fart, and they never missed a beat. Again being polite we didn't react until we got to the cash point where Wendy almost wet herself, she can't believe so many people have wind conditions these days.

We got back to the apartment and spent more time on the balcony until the sun went and then we headed to the top pool where I have to admit I slept most of the time while listening to BBC Radio 2.

I woke to the last hour of the Paul O'Grady show as Wendy tapped my toe to say she was going below decks.

The sun went down for the last time and I had to go down where I found Wendy had made a most delightful and lip stinging fish curry. It was hard not to get stuck into it, I had two potions and wiped the pan out with a bit of bread, my lips are still tingling!

It's still light outside as the sun is shining on the east side of the island and we are watching the Manchester Concert and seeing Manchester in the sun.

I think we have had a good 14 days in the sun, it's been the best weather I have known for a while. In Australia we were on the move most of the time so we didn't get to have long periods in the sun but here we have had wall to wall, hot sunshine almost all of the time and we have stayed in the same place.

It was lovely to see Caroline and Robyn midterm and I think that was the best part of the holiday, it's a shame they didn't bring the boys along, hang on, on reflection its good they didn't!
Boys Eh!!!

Diary Photos
---