Australia 2015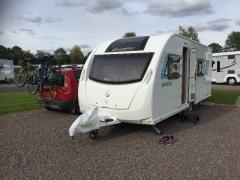 18th Sep 2017 - France, Spain, Portugal - 2017
On the Road - Again!!!
Home to Strathclyde Country Park

180 Miles

I had a late night last night, I stayed up watching the new Sky TV Series called "Tin Star" and do you know I got quite into it, so I watched back to back episodes and didn't get to my bed until 12:30.

However the excitement of a new adventure had me out of bed at 06:00 on the dot. I was as quiet as a mouse as I went about my morning routines and set off for my run at 07:00, thankfully the weather was clear, however it was a nippy 7 degrees.

I got back just before Wendy who had got from her bed and had jumped straight into her exercise routine which she seems now, unless it's raining or windy, to do every morning.

After showers we did some last minute frantic packing of the caravan and off we set and only half an hour behind schedule at 10:30. We called into Currys to arrange a new fridge for Caroline and Brad and then we were truly on our way and we were fortunate enough to have a dream of a drive down the A9 and we were on site at 14:30, just 31/2 hours after we left Inverness.

Now this is a lovely site, it's a Caravan Club site and is only about 4 years old. Wendy has inspected the toilets and they meet with her spotless requirements although I'm sure she won't be tripping across the grass for her mid sleep toilet need.

I had pre-booked and I used a free voucher that the Club had sent me a few months ago saving me £26 on a fully serviced site. Yes UK sites are joining the modern age of proper drainage and connected water supply, although I haven't yet worked out how I can connect the van to the mains water supply.

After set up we were joined by Karla, Michelle and their gorgeous little girl Brèagha and off we set for a walk around the park. The park is actually really good, it's designed around a lake, most likely man-made, with parkland, a theme park and other treats, such as swings and slides which little girls, and seemingly big girls go wild for.

We had a lovely walk, all of which was centred on Brèagha who dictated which way we went, what speed we went at and what activities we undertook, mainly pebble picking and playing on the swings. The big girl also came out in Wendy who delighted on the swings and the death slide, almost wetting herself with excitement in the process.

After an hour or so we took a civilised cuppa in the van with the entertainment provided by Brèagha who cute'ed herself all over us, milking up the attention as only a sweet little girl can.
After a change of nappy the girls were on their way and we went and did a bit of shopping before turning in for the night with frozen pizza for supper.

It's been a lovely first day, we had sunshine most of the time, the company of an adorable little girl, a delightful supper and after watching Fear the Walking Dead via Brads BT-TV account, via my IPhone, it will be time for bed.

We have a long day ahead tomorrow, the Satnav is saying 9 hours 20 minutes to Raspberry Farm, Iwade where we hope to be settled on site before its dark, its over 400 miles but our incentive is that we might get to have a bit of "Kentish Cobbler" with Granny sometime on Wednesday!!!

Diary Photos
---