Australia 2015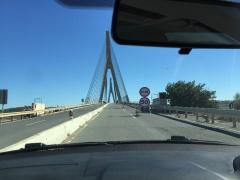 10th Nov 2017 - France, Spain, Portugal - 2017
Time Travellers
The Algarve
No Traveling
I finished the film last night, Hatten Garden, don't bother if you haven't seen it, it not worth the time.
Another nice comfortable night's sleep with Wendy not opening her eyes until very close to 07:00, but she was in bed by 9 pm mind!
I saw this person come running towards me this morning, whoever it was they were flying along, and guess who it was? Wendy Ann Gill no less, and she still didn't fist pump me when we passed, the old bag!
We had another lovely sunny day so we decided, after yesterday's rest day, to go and visit the nearest Spanish town, Isla Christina, 39.9 miles away
Isla Cristina was given its current name on April 12, 1834 in honor of Maria Christina for services she provided during the cholera epidemic of 1833-34. It is also an important fishing port its catch being highly prized throughout Spain.
And it is also a popular summer holiday resort, particularly with the Spaniards themselves. The people of Seville flock to the area in July and August, much of the attraction being the kilometers of fantastic sandy beaches, and there really are!
We set off and bounced along the Portuguese roads for the first 30 miles. The border is the huge river, The Guadiana River and it is massive. There is one bridge connecting the two countries and I managed to get a snap as we went over it. I also asked Wendy to take a photograph of the Welcome to Spain sign, I said, "It's there Wend, it's there". I didn't hear the camera click, so I say, "It's there Wend, it's there". And then we pass the sign and I still hear no click of the camera, so I say, "Did you get it Wend", "No I can't see it" was her reply. What a Wally, it was 20 x 20 metres wide!!!!
Anyway, Isla Christina was once an island surrounded by salt marshes and we had to cross 3 bridges to get into town and once there we could not find the beach. We drove around and around, we walked, we crossed sand dunes but all we saw was more salt flats, oh and we had gained an hour!
Then I thought that as I had turned first right off a roundabout we should go back and go across the roundabout, so we did and thankfully we found the beach, but not until I had to go the wrong way down a one way road, much to Wendy's severe concern, she is such a flapper!
Well, what a stunning beach, a cracker and it went for mile and miles. With the sun out and a nice calm day we could only go for a walk, a long, long walk and it was just lovely.
Wendy collected yet more shells and just enjoyed herself.
We saw some local men in the water upto chest height and they had what looked like shopping baskets on poles and they were grinding them into the sea floor. I think they were looking for shell fish of some kind. They were hard at it mind, it looked darn hard work.
We eventually got to the next town, some 3.6 miles away and had a beer in a beach side bar, at 3.20 for two beers, on the sea front, who could complain, not me.
We set off back and with the wind behind us it was a nice warm walk and I must admit despite the fact that I had sunscreen clattered on my chops I did suffer a bit of red chop syndrome!
Wendy did her shaky hungry routine towards the end and I had to drive her on. In the end I recorded 6.75 miles on my walking app.
We shopped at Lidl for supper, just as Robyn Facetimed us, and she chuckled at us being in Lidl, again! Wendy bought some chocolate to get some energy, which she pushed down her throat ASAP.
We then walked around the town for a little while and it was lovely, very nice and very clean. Lots of bars and cafes and I can imagine it being a bustling place during the summer.
We drove back as the sun set, and it was a bugger as it was directly in my eyes, but we managed to get back safe and sound.
Strangely we got back to camp before we had set off as we got our lost hour back, how bizarre!
We have had a lovely supper, starting with Carpaccio and fresh bread and then a chicken pizza as chosen by Wendy, it wasn't upto much, but at least it was filling.
Diary Photos
---