Australia 2015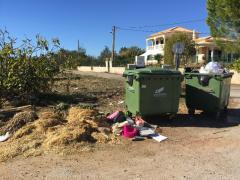 12th Nov 2017 - France, Spain, Portugal - 2017
Easy Sunday
The Algarve
No Traveling
What is going on with Strictly marking, jeepers it seems a little unfair to me. Wendy says, and quite rightly, that they seem to forget that some people have never danced and are trying very hard while some people work in a dancing environment and seem to be natural at it.
Oh she was cross last night, tell me who goes out she said has she trotted off to bed. So I found out, but come morning she doesn't want to know, but I do know and now I can't unknow, can I? Well it's……………**********.
What a wonderful sunny start to the day we had, it was tremendous! Clear blue skies and a wonderful bright sunrise.
I ran to the resort to see if a market was there today and it was, a car boot sale, it covered the entire village. So when I got back I grabbed the last crust for toast, showered, shaved and off we went.
And it was dire………….nothing to shout about. Admittedly there were loads of stalls but all they sold was tut! I suppose if you needed something you would get it but it was all just old tut. To boot I forgot my phone so I have no way of showing you this tut, thankfully!
We needed some bread as we are out, but we decided that as we are going for lunch in the village we would get it there, a big mistake.
We sat outside the van in the lovely sunshine reading out books, actually Wendy sat under the awning out of the sun, but I thought she was just taking time out, but it seems she's not well.
We walked into the village and came across a very large plastic container in the middle of the road and cars were screeching around it. It had blown out of the communal bins so I went and picked it up and put it back in the bin before carnage occurred. There is litter everywhere here, don't think the Algarve is stunning and beautiful as the adverts would have you think. The weather is terrific but the Portuguese are mucky buggers.
We had lunch in a café in the square, and it was bloody lovely.
We had a Tapas starter, without bread and then Wendy had cod loin and I had black pork, which wasn't at all black, both with chips. Do you know what, they were bloody stonking, Wendy's cod was extremely meaty and very well cooked, just right actually. My pork was smashing too, loads of it and very tasty.
All washed down by a litre of very nice white sangria.
All the shops were closed so we are officially out of bread, well Wendy's world collapsed, what will we do if we get nibbley was her response. Wendy we have cheese, pate, cold meats and crackers surely after a lovely lunch like we have had that will be enough. Oh, I don't know was her reply, jeepers she is surely her father's daughter!!!
Then Wendy told me about her tummy, it hurts quite badly so we got home smartish and we sat out in the afternoon sun, but Wendy took to her bed at about 3pm and is still there.
It's now 6pm and she has spoken to me but she's now asleep again. I think she's overdoing things, she's a dainty wee thing really and should slow down now she's getting older.
Don't worry Avid Reader I'm first aid trained and I'll take good care of her, but I think a good night's sleep will do her the world of good. I'll watch Strictly with my ear plugs in and when she wakes up I'll tell her that ********* is out an see how she likes that!
STOP PRESS - Wendy managed to get out of bed and watch Strictly, and drink my glass of wine and eat chocolate so she's on the mend. My Mole came good again and accurately predicted the outcome. Wendy is back in bed, tucked up again and cursing Alexandra as she's too professional, as is Debbie too.
Diary Photos
---