Australia 2015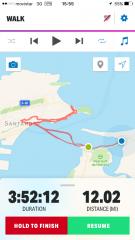 2nd Dec 2017 - France, Spain, Portugal - 2017
Santander – A Lovely City
Lordeo
No Traveling
We had a good night's sleep last night as we didn't get any more rain, thankfully.
I was up at 07:00 and I was off running just as the sky had become light enough and would you believe for the first time in 4 days Wendy Gill had climbed from her bed and claimed she was going running too.
I got back just a little after Wendy who had indeed gone out and got caught in the same hailstorm as I did. Hail is a bugger as it can be very painful against your legs and face.
I was just taking my trainers off when Wendy went over to the shower block but she was back within two minutes, cursing that there was no hot water. "27 euros, crap Wi-Fi and no hot water" she chuntered. She was not a happy bunny. The office wasn't open either so we couldn't complain to anyone there. So it was hot showers in the caravan then, but not before I had topped up our water tank.
After breakfast we headed for the 11:30 ferry, except that it was a Saturday and the ferry didn't run until 12:00, we should learn to read Spanish as it was clearly stated on the timetable we had picked up!!! It was OK as we had time to find a supermarket and stock up with supplies so we didn't waste any time really and that also meant we wouldn't have to carry them around Santander, a blessing in disguise then!
The ferry came bang on time and we hopped aboard. It cost (9.9 euros for two return tickets which I didn't think was too bad. The crossing was calm as the inner Bay area, as big as it is, is protected by a long spit that comes right over the bay from our side and a very narrow entrance to the Atlantic Ocean. So it can be raging in the Bay of Biscay, which we later found it was, but it was calm and steady on the Bay itself.
The crossing took less than 25 minutes but as we landed we could see a very big black cloud coming in our direction so we headed over to the metal building for a coffee to let it pass over, we barely made it before the heavens opened, it chucked it down.
Apparently the weather in Santander is not dissimilar to that of the UK and has much less sunshine than other Spanish Cities and much, much more rain. It has the same sunlight average yearly hours as London and it doesn't get very hot in summer and has much wetter summers too. But it is such a lovely city to be in.
As the rain cleared we walked along the Bay and all the way over to the Atlantic side where the sea was churning away in the wild wind and it was giving the rocks and the sea wall a right good thumping. It was a really interesting walk and we saw some beautiful beaches along the way.
We walked back along a road which was accessed by some steps as the city is a little like San Francisco in so much as when you move from the seaside area your climbing pretty steeply. There are even travellators on some side streets to help people get up them.
From this road we had much better views across the Bay and some of the housing was out of this world.
We got back to the city and we walked in areas we didn't do yesterday and it was really interesting.
What I found interesting was the housing was mostly all high rise tenement like buildings, there were thousands of them. I would hate to be in the Fire Service here as there are an awful lot of stairs to climb with your gear on!
After six miles we had had enough so we sought out a small bar near the ferry terminal and what a find, it was a cracker.
There were only five or six people in and we settled into, me a small beer and Wendy a glass of white wine. The barmaid was alone and she couldn't be much older than 20 years old, she was a really dark skinned, very pretty girl, she looked so typically Spanish. We were sat on the bar stools on a small wall bar opposite the main bar and the barmaid gave us some bread and cheese, quite a bit actually which I scoffed as Wendy doesn't eat cheese. Then the bar maid gave me a huge bowl of finger food stuff, kind of cheese wrapped in breadcrumbs, and fish in breadcrumbs, boy they were tasty.
We had 30 minutes to wait for the next ferry so we had a top up and I saw some tempting fishy tapas so I bought one to share with Wendy. Then the barmaid gave me some more tapas, these were slices of cheese, ham and potatoes, like a Spanish omelette, again it was smashing. I asked the barmaid if she was trying to make me fat, she chuckled. I think I might just settle here and make this bar my regular!
We caught the ferry back and were home by just turned 4pm, both of us knackered!
But as we are moving tomorrow we had to do some chores, like tidy the car and stash all the wine and beer we have bought so it doesn't rattle.
More rain followed but that was OK as we were all snug and warm in the caravan, without decent Wi-Fi, she's not a happy bunny. That was until I did some 3G testing to ensure that Strictly Dancing will be available later tonight, she's feeling a bit better now as it works a treat!
I'm worried for Gemma tonight, so I'll be sneaking the outcome in the morning from my very well placed spy in the audience.
We were going to have Carpaccio followed by some tasty looking chicken pieces and salad, but I was stuffed still from my afternoon treats, so it was just the chicken then, with no bread!!!
Well what a Strictly night we had, what a beauty. I did think Jemma did better that the judges thought and I thought Alexandria wasn't as good, but there you go.
Wendy isn't very well tonight, I think she's over tired so I am doing a bit of pampering, like getting her a hot toddy in her bed.
I'm sure she will be fine tomorrow, I think it's all just catching up on her as Granddad Bryan says, often!

Diary Photos
---