Australia 2015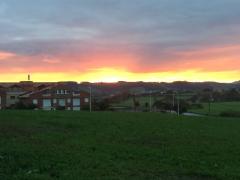 3rd Dec 2017 - France, Spain, Portugal - 2017
Sailing Away
Lordeo – Santander
17 Miles
The rain came again in the night, at about 04:00 making a right old racket on the caravan roof. I woke up, popped in my ear plugs and dozed off back to sleep. I woke at 06:45, quite excited as today is the day we leave Spain, via car ferry from Santander to Portsmouth, a total journey of 29 hours.
I put this travel option to Wendy a few weeks ago in the Algarve, my reasoning was that I thought we most likely won't come back to Portugal with the caravan, the roads are terrible and the drivers are obnoxious. Therefore if we take the ferry from Northern Spain we can make the most of our time and see as much of Portugal as we can and not have to dash through France through quite likely bad weather.
We haven't told anyone about our change of plan as I wanted to save this news for my very Avid Readers, it's a kind of Sky News Breaking News event. Actually I couldn't believe that I would be able to persuade Wendy to do the trip, through the most treacherous stretch of water around these parts.
For the last week Wendy has been glued to the Shipping Forecast, it was quite rough a few days ago but she is content now as it's easing off and we should have a steady trip. It's been a big ambition of mine to do this sea route and doing it in winter is the icing on the cake.
We both went running, the temperature was only 4 degrees but at least the rain kept off and soon after we got back and showered we were on our way to the port. We could check in and leave the car at the port and go for a stroll around Santander, which we did.
We found a couple of new things, one that they have umbrellas for their washing when its out on the wall hanger and two, a nice old market which is now a place bustling with bars and diners, wow, what a find. Three, a man who was powering a children's carousel by bicycle, and do you know he had the kids loving it, high fiving them as they went around him. This was a man content in his work, it was a delight to see.
I manged to buy two very nice looking bottles of red wine and a bottle of Bacardi which at the price I paid was a very good result. We also stopped in my favourite bar for one last drink before we left.
The young barmaid wasn't there today, I think it was the bar owner who served us and he gave us a very delicious toasted ham and egg sarnie with a very lovely mayonnaise sauce. He did charge me £1.80 for it mind when I went to pay, but it was actually very good value.
From there we went back to the caravan in time for boarding.
We were boarded in no time at all, although I did meet an obnoxious deck hand who must get very frustrated with stupid drivers. But his mate should make his intentions clear, I'm not getting on that well with my mind reading capabilities these days.
Our cabin wasn't quite ready so we sat in the small bar and waited with our bags. I did a quick reconnoitre of the ship and its very nice, quite clean and very well presented with a very good restaurant and bar and by the time I got back our cabin was ready.
After settling in I gave Wendy a tour of the ship and then we settled down in our cabin with a glass of wine awaiting our departure. No sooner as we had opened the bottle and I could hear the engines getting louder so without further ado we went out on deck taking our bottle of wine with us to watch us depart this beautiful city, and it was raining!
But that didn't stop us, so with glass in hand we marvelled as the city slowly slipped away, and darkeness fell.
We saw a small boat take a man off, he appeared to have been a pilot, but I would have thought that a ferry Captain, one that runs the route as often as they must do shouldn't need one. Perhaps the Captain is new, or perhaps it's a harbour requirement. It didn't look a tricky harbour and it was a reasonably high tide too. I'll have to put it down to one of those mysteries.
It was a wonderful moment, out there on the deck, cold, windy but marvellous and the sea was flat calm, DAM!
We were out, on our own for at least an hour and we saw the north Spanish mainland slowly fall into darkness.
After some small talk in our cabin we went upto the restaurant for supper, and do you know what, it was lovely. It was a bit cafeteria type food but tasty all the same. I had roast lamb, mash and peas, Wendy had something pork, with big chunks of pork too. We sat and had it on the port side with the Bay of Biscay slipping quietly by.
It's a no go for Strictly tonight, the Wi-Fi is pretty poor and I'm wondering if I will be able to post my copy tonight. Never mind it will be the first time we have missed it after all this traveling, so we haven't done too badly. I know who is out anyway, and I am not happy, I'm not happy at all.
I'll leave you to it tonight Avid Reader, I'm going to have to go to the bar and try to log on, I think I'll get the copy out but you might have to wait for photos later.
Don't forget to come back tomorrow for more of Wendy's night at Sea!!!

Diary Photos
---