Australia 2015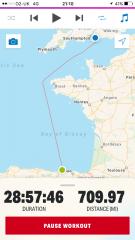 4th Dec 2017 - France, Spain, Portugal - 2017
Sailing Away
Santander - Portsmouth
710 Miles
We had a lovely nights sailing last night, not a ripple on the ocean! And I found Wendy Gill wide awake in her bunk at 04:00 playing with her iPad like a naughty girl, she couldn't sleep!
We eventually got settled and I woke again around 07:00 and got dressed, had breakfast and then went for a walk on the open deck. I have been running my walking app to map our voyage and it seems to be working very well. At 12:00 we had completed 479 miles of the 532 mile journey so we have almost covered about 84% of the total mileage but yet we have another 9 hours to do. I have checked my app against the electronic chart that is on in reception and my app is accurate with that. We do seem to have slowed down a little but why would they want to delay our journey, or do all ships have to slow down in the English Channel, I don't know?
I got back to the cabin after 30 minutes on deck where I saw the coast of France when we were passing Brest. I did my run, on the spot while Wendy sat and doodled. It's now day 740 of my 1,000 day running challenge and although I still have a sore leg, it's well past its most painful phase. I have been using a thigh support for the last few weeks and it seems to help.
After I had a quick shower Wendy knocked up a lovely breakfast of carpaccio which we had with bread and a nice hot cup of coffee.
Here are a few facts about out ferry:
Name: Baie De Seine
Gross Tonnage: 22,382 tonnes
Length: 199.4 metre
Beam: 25.6 metre
Cruising Speed: 22 knots
Passengers: 600
Crew: 30

It was Trevor's funeral today, 11:30 at Barnsley Crematorium. I missed it by one day, had it been tomorrow I would have driven through the night to get there but it just wasn't possible.
During the afternoon we sat in the bar area, both bar areas actually and desperately tried to log onto the Wi-Fi, but all we got was extreme frustration, Wendy was not happy about it!
We went back to the cabin for an hour, but not before Wendy got lost. She was absolutely rubbish with her bearings aboard the ship. Every time she moved she got lost, she'd go down the wrong stairs, through the wrong doors and onto the wrong deck. She actually was following me out of the bar and left me and went through the restaurant before stopping and standing on the spot looking totally confused, I thought what is she doing?
I had a nap and then a cup of coffee and sarnie with Wendy and then we went on deck looking for Blighty, but it wasn't there so we sat down in the small bar where I managed to get online with my laptop. But we couldn't get anything with our Apple Devices, try as we did we just could not get on.
I must admit, cruising in winter isn't much fun, the only people you occasionally see on deck are smokers or dog walkers, no one else ever ventures out.
By 18:00 cabin fever had set in, we had been in every nook and cranny of this ship, inside and outside and still we were 3 hours from docking. Looking at my app we were approaching the Isle of Wight but I could still see the lights of Cherbourg in the distance and still no sign on Blighty.
By this time we had done 627 miles according to my app which makes the official distance somewhat inaccurate. If we have 532 nautical miles to do and we are cruising at 22 knots then the voyage should take just over 24 hours, not the 29 it is taking. I got the official distance from the lady at Reception, I'm now beginning to question it.
At 19:00 we nipped upto the restaurant for some super and we both had lamb curry, it could have done with being a bit warmer but the meat was really tasty. We didn't really need the food but it gave us something to do and it will keep us going for our ling drive tonight.
We then sat in the bar with our drinks, Wendy with wine, me with sparkling water and up popped the O2 network on my phone, we must have been in earshot of the Isle of Wight so we nipped out onto the deck and sure enough there she was.
We were ready and packed by the time we were asked to leave our cabins, about 30 minutes before departure so we sat nicely in the children's play area. However fate had two last laughs on us, the first we were 35 minutes late due to the port being busy and second, the ships ramp wouldn't fully lower and had to have some attention, never mind we were home.
The drive over to Kent was a synch but finding a place to rest took a little time as I wasn't too keen to park anywhere with the amount of stuff we have in the car, so we choose the Leas on the Isle of Sheppey which was perfect until cars started roaring past us at 06:30. I therefore moved the van a little further down the road onto some waste ground whilst leaving Wendy all tucked up in bed.

Diary Photos
---