Australia 2015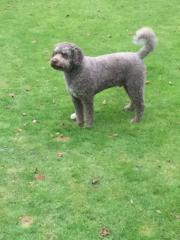 5th Dec 2017 - France, Spain, Portugal - 2017
Blighty!
Portsmouth – Isle of Sheppey
Isle of Sheppey - Iwade
138 Miles & 10 Miles
After breakfast we left Sheppey at just before 09:00 and we were camped in Iwade with Mrs Jenkins by 10:30, all set and in reasonably favourable weather without any rain.
Mrs Jenkins is a member of the Caravan Club and offers space for no more than five caravans so we get the site almost to ourselves, we can chat with our neighbours or we can keep ourselves to ourselves, it all depends on the neighbours.
Mrs Jenkins met us at the gate and apologised profusely for having her curlers in, having been brought up with my Mam in Barnsley I have absolutely no problem with women in curlers!
After set up we went for coffee with Granny and Grandad and it was nice to catch up with them and hear how things are going.
Wendy went for a short run and I went out along the sea wall at Queenborough, Blue Town and the docks.
The Town area of Sheppey is steeped in history, both Naval and Aircraft and it is reputed that Lord Nelson had secret liaisons with Lady Hamilton in Sheerness, how dashing.
After showering we nipped over to see Andy, Mocca and Pablo the dog at Holingbourne which was very nice as it was Andy's 54th birthday, the old git! I was placed under excessive pressure to have a glass of wine with him and duly did my duty with a very nice glass of Moccas finest.
We went back to the site to pay our camp fees to Mrs Jenkins but she wasn't in. The issue is we were going to stay for at least 2 nights but a storm warning has been issued for Northern Scotland, Storm Caroline is coming and very cold weather is following it so we have no option to go a day early. The problem is towing the caravan, had we not had that I would happily have risked it, but it's too dangerous with it.
We then went back to Granny's for some very nice chicken wrapped in bacon and vegetables comprising mash, brussel sprouts, carrots and cabbage. It was a delight, I was even pressured into second helpings but thankfully Ian saved me and took the leftovers for Karen who is unfortunately poorly with a very bad cold.
We did nip upto see Karen, she's feeling a bit better but has had it rough, I prescribed my well tried remedy, rum, a bottle of rum will ease any cold. It won't cure it but you will feel an awful lot better. Whiskey on the other hand is good for issues of the body, like pain and injury, but rum will sort you for cold and flu, well that's my advice!
Back at camp we prepared, as best we can, for the big journey tomorrow and hopefully we will get back before Caroline strikes.
This is the penultimate copy Avid Reader, stay tuned as there is one more day of this epic European Adventure to come, hopefully it will end safely, and with an England win in Australia!

Diary Photos
5th Dec 2017 Pablo the Dog!!!
No Description
---