Australia 2015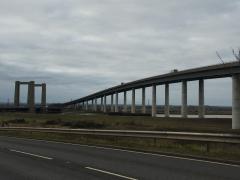 6th Dec 2017 - France, Spain, Portugal - 2017
Home!!!
Iwade - Home
663 Miles
What a journey, it's now 03:30, but more of that later.
I had a lovely sleep and woke at 07:00 and put the radio on to hear the Cricket score but alas it was all over, England had lost.
With nothing further to do we both went for a run and both went the wrong way taking the road upto Ridum Docks by accident, realising our mistake we turned around and went along the old Sheppey Crossing which was extremely busy with cars.
After breakfast and a shower we hooked up the caravan in an attempt to beat Storm Caroline by going home a day early and left Iwade at around 11:00.
We went over to Maidstone and along the M20 & M26 so we could go around the M25 via Heathrow so we would miss the Dartford Tunnel which was very busy the day before.
We then picked up the M40 and the M42 before getting onto the M6.
All was well until we hit roadworks around junction 16 and then we crawled for about 50 miles which was purgatory!!!
People were swapping lanes left right and centre which only increase peoples braking which has a knock on effect for those following behind. We must have been stationary for about half an hour due to this effect.
We got going again when we were above Manchester and then we saw a horrific crash on the south bound carriageway, which had stopped the traffic on that side. Thankfully it didn't bother us too much.
We got going again and the traffic thinned out as we hit the Lake District. By this time we had stopped once at a service station for fuel but has I was having a bit of trouble with the vans lights so I stopped at the services at Carlisle to sort them out and noticed the wind had picked up.
It had picked up and by the time we got to Scotland it was blowing the van around a bit. I was thinking we might have to stay at the Caravan Club site in Glasgow, but the further north we got it eased a little so we carried on.
The temperature at midnight in Perth was 13 degrees and it was windy again.
It chucked it down with rain coming up the A9 but it stopped when we got to Inverness, thankfully.
Brad had put the heating on for us so we were nice and warm after I had the van settled on the drive and at 03:30 we were in our jimjams and having a small drink to celebrate getting home safely.
Our total mileage for the trip in the car was 4,313 miles, of which 1,489 of that was done in the UK and 2,824 on the Continent. Overall, including the Channel Tunnel and the car ferry we did an impressive 5,045 miles.
Our fuel consumption was good but we did pay about £825 in diesel. The car drove like a dream and that's all thanks to our mechanic Martin who gave her a full service just before we left.
We have had a fantastic time Avid Reader, I hope you've enjoyed it too, see you next trip!

Diary Photos
6th Dec 2017 The Old & New Sheppey Crossing
No Description
---