USA 2012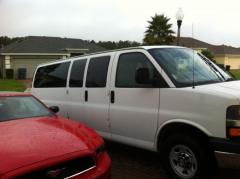 8th Jun 2012




Day 14 - travelling all day - Bermuda amended!!



Just updating the blog with yesterday's nightmare journey!!

We set off at 8am leaving the villa and Orlando behind, the Phillips and Wilkins family gave us a good send off with a packed lunch!!
We made our way to Miami to catch our flight, it took us approx 4 hours to reach the airport. Trying to check in was a the next hurdle, our cases was over weight and they tried to charge us 100 dollars for each suitcase. We ended up buying a extra bag for hand luggage and repacking our cases. We managed to get the weight down and not pay a dollar!
Our flight was due to leave 30 mins late which wasn't a problem, we boarded the plane and was about to leave when a thunder and lightening storm hit Miami within 3 miles of the airport which forced the airport to close. We ended up sitting on the runway for approx 3 hours, there was no food on the plane not even snacks to buy.
We eventually landed in Bermuda in the rain at 10:50pm and Vicky was waiting to pick us up. We were tired and hungary! We stopped and picked up some pizza slices on the way to her house!

We had a lovely Bermudan welcome from the locals when we went into town and picked up Colin from work. Vicky then showed me parts of the Queens jubilee concert especially the opening act!!



Diary Photos
8th Jun 2012 The 2 cars on the driveway of Jo's villa
No Description
---