Debbie does...round the world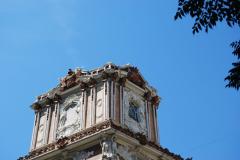 23rd Aug 2010 - Spain
Valencia Day 1
Up at 0740 and packed everything up – amazing how you haven't brought a thing but the suitcase is full and difficult to shut. Walked to the station – about 10-15 minutes and a pleasant temperature. We had brought our tickets in advance so we joined a long queue through security to get all bags scanned – didn't expect this. Therefore no time for a coffee. We were the first carriage on the train – seating all reserved – the ticket from Alicante to Valencia brought 5 days in advance and costing 23euros. Air conditioning was good and very clean. I downloaded my photos and deleted some of them – the days of keeping 10 pictures of the same shot is over and I am now ruthless. Took about 90 minutes and we arrived in a very grand Estacion de Nord – must take photos when we leave.
We had met some of the others we were hanging with – all in their mid to late 20's – thin and gorgeous – at least I make them look even more better. They unfortunately also seem very nice as well. Walked to our hotel – about 10 minutes. Andrew made another very good choice – very central and really nice – single for me is 48 euros per night – huge clean room and the best airconditioning. It was 35 degrees when we arrived at 1100 and the temperature crept up every hour peaking about 1700 at 46 degrees.
Waited for the others to meet us and then Nick took charge. The plan was to the Ciudad de las Artes y las Ciencias but by the time we had to walk to the Info Centre and then find the Bike Hire for them for the next day as well as a specific place for lunch I was hot and exhausted. However the place for lunch which was recommended – Sagardi (San Vincente Matir 6) was amazing. Rows and rows of pick your own tapas on bread – so many different toppings and just plain gorgeous. This is what we came to eat in Spain. You pay per piece that you take. I took 2 too many but it was good.
Then back out into the heat and eventually found a bus that took us to our original destination – Ciudad de las Artes y las Ciencas. Amazing architecture – local guy called Santiago Calatrava who also designed the new transport terminal for the new World Trade centre in New York. The heat was amazing and I guess why there were pools of water everywhere – not that anyone was allowed in. Wandered around and took in the buildings – decided not to enter any although the pull of airconditioning was there – there was a moving dinosaur park, planetarium, aquarium, IMAX and laser show as well as an interactive science museum – you could spend all day here for 30 euros which is actually ok. Nancy and I had slushies in the shade whilst the others explored more. Then over to the shopping centre for more water before heading back out – now 43 degrees – wandered thru the park as there was supposed to be a large sculpture of Gulliver form the Gulliver Travels fame – unfortunately all closed off although the others climbed thru a fence for photos. I was half dead by then so didn't bother.
Then trying to find a bus and stood and waited for what felt like ages – even the skinny ones were sweating. Mananged to get our way back to the station and walked back down from there with the top temperature for the day of 46 degrees. Walked into the hotel lobby and nearly cried when the air conditioning hit.
We decided not to meet until lots later for dinner. No wonder the Spanish have siesta from 2-4pm and then have dinner at 9pm.
So we met about 2100 for dinner – another couple and a guy added to the group – all seemed very pleasant. Had Italian of all things – can we not eat Spanish food in Spain? Actually it was very good and a large sambucca helped it all. Wandering afterwards for gelato and the others carried on to drink and we were back at the hotel by midnight.
Diary Photos
---