Debbie does...round the world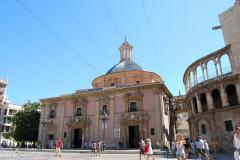 24th Aug 2010 - Spain
Valencia Day 2
Half thought about getting up earlier and looking around when it wasn't so hot but it just didn't happen. Met Andrew and Nancy at 1000 and decided to start off at the Central Market – I had planned to leave them after this but they followed what I wanted to see. The temperature started off at 29 degrees and by 1400 had risen to 37 degrees – good compared to yesterday. Market was mainly food and meat but interesting all the same. Andrew was searchingfor authentic paella – I would have thought any paella in Spain was authentic but obviously not. Anyway the place he had been recommended hadn't opened yet so we went to the Lonja – 15th century Gothic early Valencian commodity exchange which is now a world heritage site. Saw some hand drawings on the street of Valencian buildings – Nancy decided to get one – years were added to my life whilst choosing the right one happened.
Then onto desayuno / almerzo (breakfast/lunch) – went back to our favourite tapas place from yesterday and I tried a few new things.
Then onto the cathedral – a mixture of Romanesque, Gothic, Baroque and Renaissance styles – not sure which bits were what but it all seemed to go together. Evidently the Holy Grail – the chalice (cup) that Christ drank from at the Last Supper is here – as I think this is unlikely to be true I didn't pay to go and see it. Then to the Plaza de la Virgen which was once the forum in Roman times – the meeting point of the North/South and East/West highways. Several other churches and buildings were here but we just sat in the shade and watched the world go by for a while.
Ambled our way back to the hotel by 1500. Started a new book – The Executioner by Chris Carter. His first book was The Crucifix Killer. Both are well worth reading if you like crime novels.
Andrew and Nancy had decided they wanted to head out to the beach area for dinner which I wasn't adverse to. They had a restaurant recommended but they weren't answering phones for booking. Anyway we walked to the metro and figured our way out to Playa de las Arenas. Brought what we thought were three tickets – couldn't figure out how to get thru the gate on one ticket so just pushed our way thru all together. On the journey home we figured out that we had brought 3 separate journeys for one person – hence one ticket. It wasn't a problem until we got back to our furtherest point and it wouldn't let any of us through. The guard checked the ticket and I pretended I had no understanding of his Spainish although I knew exactly what he was saying – he knew no English although could see from his card reader that we still had two tickets left. I think as it was the last train of the night he decided to give up and just let us through. We were lucky – in London we would have to pay a £60 fine each. Anyway back to the beach – it was huge but had no soul to it.
Our restaurant was closed for the month – common in Spain in August – therefore we had the painful experience of scouring every menu in sight - I gave up and left them to it as usually there is something I will eat. Anyway I just knew with the one they chose I would not be happy and I wasn't – mainly seafood and one steak which was an astronomical price – anyway thats what I chose and it was a piddly bit of steak with about 10 chips so in protest didn't eat it. Also Nancy's whole squid sitting in front of me did not help my appetite. Had 2 glasses of sangria which did help. Long trip back to the hotel as got on the wrong train – only 2 stops out but then it took a bit to figure out how to get back. Still a pleasant 29 degrees at midnight.
Diary Photos
---