Debbie does...round the world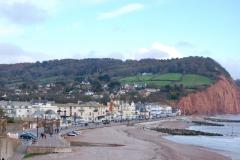 20th Nov 2010 - 21st Nov 2010 - England day trips
Weekend in Devon
This weekend I went to Exeter in Devon to see Pam who is my mother's cousin and her two daughters Becky and Charlotte who are in their mid 30's. I have only met them all once before at separate times.
Pam is in her early 60's - an ex social worker in Children's services who has also done a lot of research in the area and is now working as a university lecturer. She is lovely and I I really like her and we have a lot of the same opinions about things as well as some disagreements.
Becky is the oldest and has been with her partner for some years - he is very nice as is Becky and so welcoming. She works as a Housing Association officer. Charlotte has recently got married to Shaun and they honeymooned in Sri Lanka - they are also lovely and I would think there willbe children at some stage.
I arrived by train from Paddington Station - I love Paddington Station and there is a Paddington Bear shop there. Train journey was about 2.5 hours and cost I think about £70 return. Pam picked me up from the train station and about a 10 min drive back to her place. We sat around all afternoon and just chatted - so what I needed really. She is easy to talk to and although I only met her once before she feels like family if you know what I mean. Had great discussions about the state of social work and men and politics and travel and God and religion etc. I feel at times over here not having anybody to talk to about things and although I know I have people in NZ who are available on the telephone its not the same. We talked so much about everything that we never left the house and the others were due to arrive.
Becky and Charlotte came around and got reacquainted with them - I met them first about 6 years ago when I was over in England and visited Great Aunty Joy in Dawlish, Devon. Again they were very welcoming and was invited to go down for Christmas if I didnt have any plans. Guy and Shaun had been to a rugby game and had been drinking so they were quite amusing when they arrived and it was good to have a reasonable discussion re the state of rugby in the world - it is so great to be from New Zealand and having the greatest rugby team in the world. Had chinese takeaways for dinner and sat around chatting. I did have to endure watching that dancing programme with celebrities who learn to dance and they get voted off - see i dont even know the name of it but there is an NZ version. the funniest thing though -a woman called Anne Widdicome - a politician who cannot dance and she is really dreadful and a bit overweight and it was hilarious - I am sure there must be some of her damces on youtube to look up.
On Sunday we all gathered about 1100 and went for a drive in Guy's range rover to the East Devon coastline to a place called Sidmouth. Very pretty countryside - last of autumn leaves etc. Walked along the beach front and then along the cliffs and back again. Fish n Chips in a little restaurant for lunch and a bit of window shpping. Found a craft gallery that had some gorgeous paintings and bit and pieces in that even I loved and one day when I have some money I am going back. Then back to the car and to the station for me to go back to London.
For some reason I had a reserved seat on the way down but not on the way back and the train was full. I did get a seat that was reserved for someone who was getting on a few stops up the line and very fortunately that person didnt get on the train as I would have had to stand for the rest of the journey. There were about 20 people in our carriage who had to stand for the whole 2.5 hours. Walked into the apartment at 2000 and had some dinner and did some washing and went to bed.
Fantastic weekend with some lovely people - just what I needed.
Diary Photos
---